After a year-long hiatus, Lenovo has finally started launching smartphones unders its own brand name, instead of Moto. The company recently launched the Lenovo K9 and A5 budget smartphones in India and is now readying to launch the Z5 Pro in China. The smartphone's launch is slated for November 1 and an image of the same was teased by Lenovo VP, Chang Cheng on Weibo, revealing the phone's slide-out camera design, similar to the Xiaomi Mi Mix 3 and Oppo Find X.
Looks like slide-out cameras are the next big design trend for smartphone manufacturers gunning for bezel-less displays without a notch. Samsung, on the other hand, is moving towards holes in the display to embed camera sensors and go around the infamous notch.
Coming back to the teased Lenovo Z5 Pro, the phone can be seen with a slider display which slides to reveal the front facing cameras. It is not clear whether the slider will be electronic or manual. Rumour has it that the Z5 Pro will also feature four cameras at the back with 2x telephoto zoom. No other details have leaked about the phone so far, but now that the teaser is outed, that might change.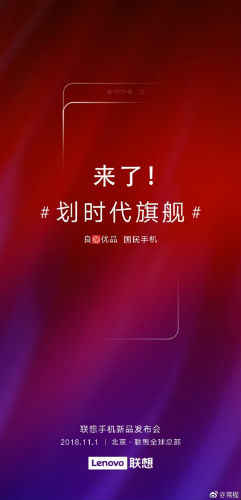 The Lenovo Z5 Pro will first launch in Beijing, China and there is no word on its global unveil yet.