Today, multiple reports of a camera sample leak from an alleged Xiaomi Mi 8 SE have been cropping up. The claim is that the image sample shown was shot on the allegedly upcoming smartphone using its AI dual camera. The story was first broken by Gizmo China. The assertion is made based on a simple watermark at the bottom left of the image which says "Shot on MI 8SE AI Dual Camera" with another watermark in Chinese on the bottom right. While the image is very much real, it was definitely not shot on the Xiaomi Mi 8 SE, or any other Xiaomi smartphone, or any smartphone for that matter. The photo was actually shot by a photographer named Buyi Huang and was taken using a Sony A7r MarkII. In case you don't believe us, read on.
Wait, is this the Burj Khalifa?
The query into the image began with a debate between those who had read the story and those who had just glanced at the image as to whether the skyscraper in the story was the Burj Khalifa or not. During the debate, I looked closer at the image and was confused as to how a smartphone was able to get such a wonderfully correct perspective and show so many straight lines without any notable distortion. This was red-flag number one. We then scanned the photo using Google Lens, but the service just said "sky." We then turned to the Big Brother (Google Reverse Image search) and that's when things got interesting. We found image results that pointed to wallpaper websites which had the same skyscraper and the image looked a lot similar to our alleged "Xiaomi Mi8 SE camera sample leak." This was red-flag number two. The problem with the image on the wallpaper website was that it had the top bit of the skyscraper cropped out, so we couldn't say conclusively if the story had been cooked up using a stock wallpaper. Here's the link to the reverse Google image search query.
Smartphones are NOT DSLRs
Having been a professional photographer for well over a decade, I was skeptical that the image could have been shot on a smartphone. For starters, this was a night shot that showed very little noise, and next to no JPG compression artifact. All smartphone photos show compression artifact unless you shoot in RAW, so I first thought that this may have been shot in RAW. However, having worked with RAW files from pretty much every flagship from the last 3 years, particularly including the Samsung Note 8, Huawei P20 Pro and even the Lumia 1020, I am yet to come across an instance where the files have the kind of dynamic range latitude as shown in the "leak." Maybe my editing skills are sub-par, maybe someone layered multiple images together to produce this, maybe it was an AI, whatever, but the continued skepticism poked all of us to keep looking. Also, good luck getting such straight lines out of a camera smartphone. Photographers spend thousands of dollars OR lakhs of rupees on lenses that can capture wide-angle photos with little distortion (as in, retaining straight lines as straight). So we kept digging and finally stumbled upon…
Unsplash!
Unsplash is a new stock photography website that allows photographers to upload their work onto the platform, from where anyone can download their images and use them. For free. Unsplash has created some controversy over their business model, but that's a discussion for another time. After jumping from one URL to another for all of 5 minutes, we found an image of Nanjing City's nighttime skyline, and bang in the middle was our unknown skyscraper. At least now we knew this wasn't the damn Burj Khalifa. A quick visual inspection of the image on Unsplash convinced many of us that this was the source image used in the "leak." I wasn't convinced, so I downloaded the original image and the alleged leak. According to the page, the image is available on, it was shot by a photographer named Buyi Huang in Nanjing China. It was shot on a Sony A7r MarkII (great camera) using an unspecified lens with a field of view of 25mm and an aperture of f/5.6. The lens model is missing probably because he was using a non-Sony lens mounted on the camera using a converter, a common practice amongst Sony users. The photo was uploaded on April 23, 2018. It even has 82 likes, which I hope go up after you're done reading this story.
Unscientific Forensic Process
First thing I did was determine the aspect ratio of our offending leak. It has a convincing 18:9 aspect ratio, making sure the fanboys of the new Univisium format don't look any further. I then took the original image and resized it so as to match the "leak" image's proportions. Then, I simply superimposed the original image on "leaked camera sample", rapidly turning the top layer on and off. This helps ascertain any visual differences that might exist between the two layers. Here are the two images side-by-side, with boxes drawn around areas of particular interest. If you want to see a higher resolution version, click here.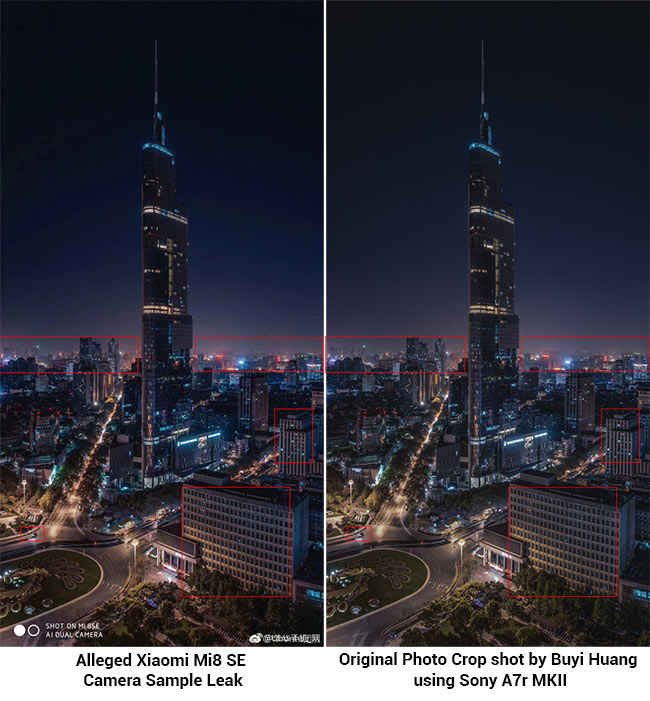 Red Flag #3 - The Mysterious Rider
If you look closely at the left side of the bottom-third of the image, you see a vehicle just making a turn. You would have to be incredibly lucky to replicate this condition in two photos. Even if the photos were literally shot at the same time, there would still be minute movement artifact, which there isn't. Professionals would almost always agree that getting two shots with identical placement of moving objects is just impossible because, well, physics, but I argue that if you had super-powers (such as being able to stop time), you could potentially pull something like this off.
Red Flag #4 - Big City Lights
Comparing the lights in Nanjing's skyline reveals that the two photos share the identical amount of illuminated signages. Not only are the same amount of lights turned on in the horizon, as far as the eye can see, but they also have an identical spread. The density and temperature of air in the skyline would have to be absolutely identical so as to get the exact same spread in lights. Again, super-powers needed.
Red Flag #5 - Spying on the little details
The most prominent building in the foreground is on the bottom right side of the frame. It could be a hotel, it could be an office. Let's assume it's a hotel. It has a number of lights turned on, 7 to be precise. Four of those lights are yellow and three blue. This is another feature that is identical between the original photograph and the "leaked camera sample." I've also matched the number of lights in the building behind our "hotel," with the same conclusion. In fact, if you're feeling like wasting some time, go ahead and patch the lights in all the buildings. They are identical between the two photos, leading us to believe that…
Maybe they were shot at the same time
Okay, so you think that its possible that both the photos were shot at literally the same time, down to the very nano-second. This would explain the same number of lights everywhere and even that one random people out on a joyride in his vehicle. Even if this were true, there should still be one very critical difference in the shots that would set them apart and that is
Perspective
There hasn't been a better time to say "we all have a different perspective on things." If two lenses are trained on a scene, they will render a different visual perspective, no matter what. Even if there is a 0.01mm gap between the two imaging assemblies, there will STILL be a noticeable difference. IF you have a hard time believing me, just line up two identical smartphones together and try shooting a landscape photo.
To Sum things up
Basically, it looks like someone decided to take a photo shot by a professional photographer, using professional equipment, cropped it into the new 18:9 aspect ratio and slapped on a watermark. Publications like Gizmochina and even Indian media outlets like Gadget360 etc ran with the story, not questioning the authenticity of the leak. What we have here is not a leak, but a cleverly devised lie. Gizmochina attributes the photo to a post in Weibo, but the account they link to does not have the image anywhere. Perhaps it was deleted, but even so, publications have failed to do any due diligence to check on facts. Next time someone shows you a photo that looks like its too good to have been shot on a smartphone, don't dismiss it but do question the claim.
Story written and images analysed by: Swapnil Mathur