Google has updated its Android platform distribution numbers, but this time it uses a new collection method. Google now counts those devices where a user visits Play store instead of devices that have checked-in to its activation servers. The shift is said to help developers identify and differentiate between active and passive users of Android.
"The new device dashboards are based on the devices of users who visit the Google Play Store (rather than devices that have checked-in to Google servers). As a result, the dashboards more accurately reflect the users most engaged in the Android and Google Play ecosystem---and thus most likely to download and use your apps," says Google in a post.
"If you've published your app in Google Play, remember that you can get even more information about the devices your users are using from the statistics available in the Google Play Developer Console. And remember, no matter how you slice it, the pie just keeps getting bigger!!"
As per the latest census procedure, Jelly Bean has seen a significant growth over month and now runs on 25 percent of all Android devices. This includes Android Jelly Bean versions 4.1 and 4.2. It's notable Jelly Bean was on just 16.5 percent last month.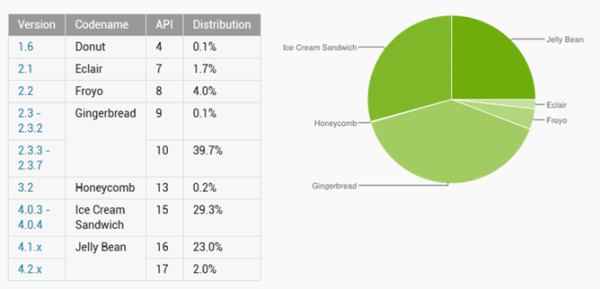 Jelly Bean is set to get another boost when the new Samsung Galaxy S4 starts selling in the market. The update has already been rolled out to the Nexus 7 and Nexus 10 slates, as well as the Nexus 4 and other Galaxy Nexus phones.
Android 4.1 Jelly Bean is clearly gaining on Ice Cream Sandwich, which has seen a slow growth. It now runs on 29.3 percent, up from 28.6% in February. Gingerbread is continuing its slow descent, slumping to 39.8 percent, down from 44.2 percent this time last month.
Other Android distributions are : Honeycomb (0.2%), Froyo (4.0%), Eclair (1.7%), and Donut (0.1%). Check out the latest Android platform distribution here.