Apple unveiled its new range of iPhones last night at the Steve Jobs Theater in Cupertino, California. The new range consists of the iPhone XS, the larger iPhone XS Max, and the more basic iPhone XR. All three models will be successors to the iPhone X that launched in November last year. Though the iPhone XS Max differs from the iPhone XS only in terms of screen size and projected battery life, let's see how the three compare with one other: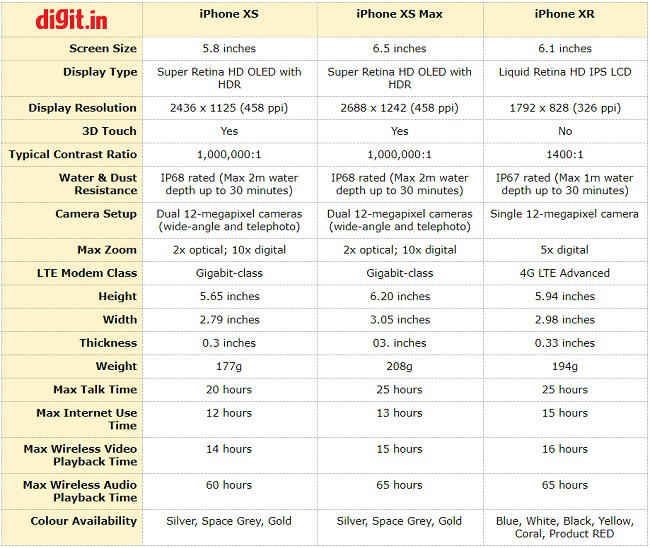 Taking a close look at the comparison sheet should tell you that the battery life of the iPhone XS Max and the iPhone XR is somewhat the same. The iPhone XS' projected talk time doesn't exceed 20 hours.
Now, let's look at the next big difference between the three iPhones—the price:

As far as availability is concerned, the iPhone XS and its bigger sibling, the iPhone XS Max, will retail from September 28, with pre-orders starting from September 14. The more wallet-friendly iPhone XR will retail from October 26, with pre-orders starting from October 19.
All three iPhones employ Apple's new A12 Bionic chip with a new-generation Neural Engine. They also use an Apple-designed quad-core GPU. The front camera on all three models is the same: a 7-megapixel TrueDepth camera with an aperture of f/2.2.
Apple's new range of iPhones uses only Face ID as a biometric method of unlocking the device, which is a definite step away from Touch ID, which used the user's fingerprint. Time will tell how the shiny new iPhone models stack up against the competition.