Apple is expected to hold its iPhone launch event soon and according to the latest rumours, the event is scheduled for September 12. Apple fans, however, may be in for a surprise. According to a report by Bloomberg, the Cupertino based company is getting rid of the home button from the upcoming iPhone 8 to make way for a larger screen. This may very well be the biggest re-design for the iPhone since its launch in 2007.
The report emphasises that from the three upcoming iPhones, only the top-end version, that is expected to be called the iPhone 8, will be losing the home button. The report further details that the home button will be replaced by a software bar which supports multiple gestures to accomplish what the home button did before. The gestures include users swiping up from the bar to the middle of the screen to unlock the phone. Another gesture will enable users to open the list of apps running in the background by swiping up on the screen. Previously, users double tapped the home button to access the running apps' screen.
Apple is also allegedly replacing its retina screen for the top-most variant of the upcoming iPhone, with an OLED one. The new display takes up the entirety of the screen except a for a little cutout or notch at the top that houses the cameras, earpiece, and sensors. Apple is expected to launch three phones at its upcoming event, the iPhone 7s, iPhone 7s Plus and the 10th anniversary edition of the smartphone, the iPhone 8.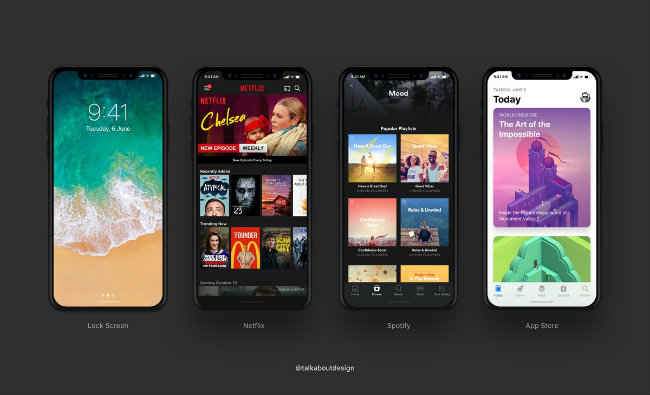 Image credits:@talkaboutdesign
Going by current rumours, the iPhone 8 is expected to feature a 5.8-Inch edge-to-edge OLED display and will be powered by a faster A11 chipset. It is also expected to feature 3D facial recognition, Virtual home button and wireless charging support. The iPhone 8, if launched on September 12, can be expected to make its way to retailers starting September 22 and is expected to be priced at or above $1000.