Want to modernise your banking loan application?
Build an application that analyses credit risk with #IBMCloud Pak for Data on #RedHat #OpenShift
Click here to know more
Advertisements
A screenshot of AnTuTu Benchmark's latest charting of its updated version, AnTuTu 6, has shown the iPhone 6s Plus' massive superiority over its Android compatriots. In the screenshot, the iPhone 6s Plus scores 132620, while Huawei's Mate 8 scores 92746, a distant second. Other popular devices like the Samsung Galaxy Note 5 scores 83364 and the OnePlus 2 scores 79747, while the iPhone 6 Plus also features in the Top 10 list, ranking 6th with a score of 80554.
While benchmark data is not always accurately reflective of real life performance, the jury is out on whether Apple's flagship smartphone is actually miles ahead of the competition. The Apple iPhone 6s Plus is powered by a dual-core Apple A9 chipset, which has previously been stated to have far superior single-core performance, in a similar set of benchmark data of system-on-chipsets (SoCs) published via the Geekbench browser. In the benchmark data set, the Apple A9 chipset scored 2527 in single-core performance. In the same test, Huawei's Kirin 950 SoC scored 1820, Samsung's Exynos 7420 scored 1488, while Qualcomm's Snapdragon 810 v2.1 scored 1343. The latest AnTuTu data, hence, falls in tandem with the single-core scores of the corresponding phones and their processors. Apple's iPhone 6s Plus is powered by the A9 SoC, the Huawei Mate 8 runs on Kirin 950, the Meizu Pro 5, and Samsung Galaxy Note 5 & S6 Edge+ runs on the Exynos 7420. Meanwhile, the OnePlus 2 runs on Snapdragon 810 v2.1.
Amidst the massive disparity showing the superior capability of the iPhone 6s Plus, it must be mentioned that only the iPhone 6s Plus and the Huawei Mate 8 are running on latest generation chipsets, among the list. Samsung has since rolled out its Exynos 8890, and Qualcomm has unveiled the Snapdragon 820. While both these chipsets are not superior to Apple's A9, they have massively closed the gap on Apple's chipset, based on what Geekbench's single-core scores reveal. For the detailed analysis of the chipset test scores on the Geekbench platform, click here.
The iPhone 6s Plus was launched in October 2015, highlighting a number of incremental upgrades over its predecessor. Some of its highlighting features were the inclusion of 3D Touch capabilities, which gives different outputs based on different levels of pressure. The iPhone 6s also received a camera upgraded, now featuring a 12-megapixel iSight camera powered by a Sony IMX315 image sensor. The new image sensor has a rearranged pixel array which translates to better low light imaging. In line with this, the iPhone 6s Plus has made its way to the top of numerous 'Best Camera Phones' list, including ours.
AnTuTu 6 listing: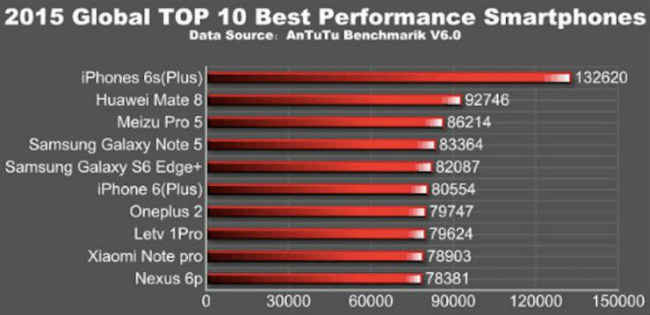 Geekbench single-core listing (Click to Enlarge):