Huawei topped China's smartphone market for 2016 with a shipment of 76.2 million units. Oppo and Vivo followed Huawei with shipments of 73.2 million units and 63.2 million units respectively. According to Singapore-based research firm Canalys, smartphone shipments in China reached record 131.6 million units in fourth quarter. This is the single highest quarter in history for the world's largest smartphone market.
In 2016, the Chinese smartphone market grew at a rate of 11.4 percent, an improvement over 1.9 percent recorded in 2015. The smartphone market recovered with total shipments reaching 476.5 million units. "In 2016, the top three brands were competing with new product launches, go-to-market strategies and brand building. Also, their flagship products started to contribute to a much larger part of their total shipments and created a halo effect for the rest of the portfolio, like Samsung and Apple," Canalys Research Analyst Jessie Ding said in a press statement.
While the top three Chinese brands gained in their home market, Xiaomi saw a downward decline. Xiaomi, also referred to as 'Apple of China', saw its shipments decline 21 percent year-on-year. The company shipped 51.4 million units and dropped to number 4 place.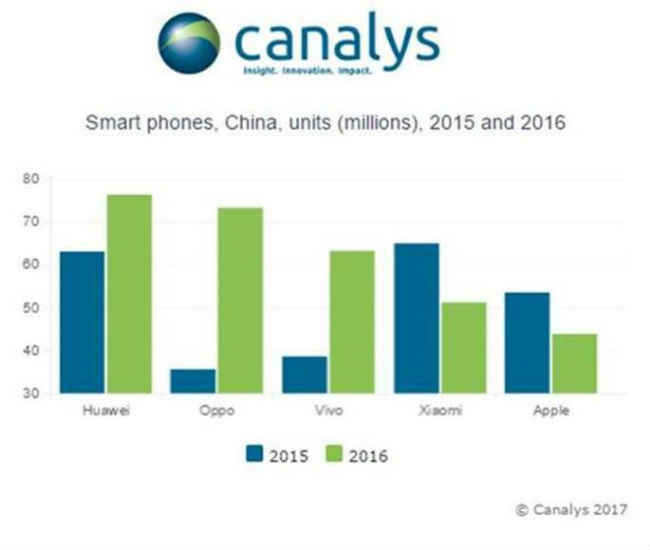 China continues to be one of the key markets for Apple. The company shipped 43.8 million iPhones in 2016, a decline of 18.2 percent from last year. "China and Hong Kong are still the hardest-hit areas in Apple's global top ten market. This directly led to a 7 percent decline in global shipments compared to 2015," said Ding.
Apple, Samsung and Xiaomi - are all scrambling to fix their strategies in China. Ding says the competition between Huawei, Oppo and Vivo will become much more intense in 2017. "This year, the outlook remains bleak for Apple to get its China performance back to its heyday of 2015. As with consumers in other developed markets, China's consumers are awaiting the 10th anniversary of the iPhone with very high expectations," Canalys notes.
Huawei and Oppo are expected to announce new flagship smartphones at Mobile World Congress later this month. The companies will aim to strengthen their position with the help of new device launches.