The newly acquired patent reveals that how the foldable phone will transform into a tablet in the open position
Last year talking to CNET, CEO of Huawei's Consumer Business Group, Richard Yu revealed that Huawei is working on a foldable phone which could be released in 2018. Yesterday, the company received the patent for a foldable phone at WIPO (World Intellectual property Organization). Back in October, Yu mentioned that the prototype they are working on has a gap in the middle of the two screens, and they are trying to get rid of that. The timing of his comment is important as Huawei had already filed for the patent by that time and hence the patent still features the tiny gap between the two displays.
It is likely that Huawei may have updated the design since then, but there is no denying the fact that this new patent takes Huawei one step closer to foldable phones. According to the patent granted to Huawei, the phone will have two displays and will fold from the middle. In the open position, the device will serve as a tablet. There is no info on how Huawei will power the device or how the phone will work exactly. On paper, it seems that Huawei is going for the fold-in approach for this phone, which is a different approach to ZTE's Axon M, which is already available and uses a fold-out technique.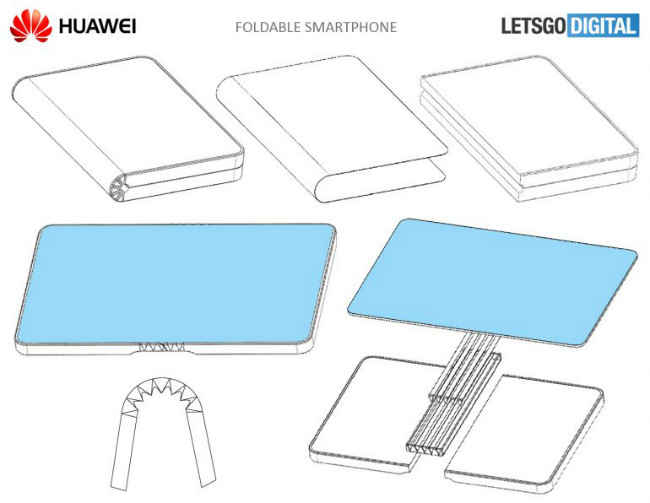 Huawei is not the only manufacturer pushing to achieve a foldable phone. In fact, Samsung already has a patent and if rumours are to believed, a working phone as well. The phone which according to rumours is called Samsung Galaxy X may make its debut in 2018. Apple is also rumoured to be working on a similar phone, which could double up as a tablet. Apparently, Apple might launch its foldable phone in 2020.
Source: letsgodigital