Calling a phone "The One" may seem like a cheesy knock-off from the Matrix but nevertheless, the smartphone has impressed us all. It is no wonder that information is circulating the Internet that HTC is working on a cheaper version of the flagship smartphone.
From the leaked images it appears that the M4 (which is the current code name for the HTC One "mini") will sport a 4.3-inch 720p HD display. A dual-core processor, 2GB of RAM along with 16GB built-in storage, will power the smartphone. The HTC M4 packs in a 1700mAh battery. The rear of the camera is also expected to feature the UltraPixel camera present on the HTC One, though the specifications of the camera aren't known.
From the leaked image it also looks like the smartphone will have the same aluminium unibody design as the One. However, it isn't clear if the smartphone will be made of plastic which looks a lot like the aluminium casing of the HTC One. The front of the M4 shows off the same speakers as you find on the HTC One – above and below the display. The HTC M4 also boasts of beats audio technology.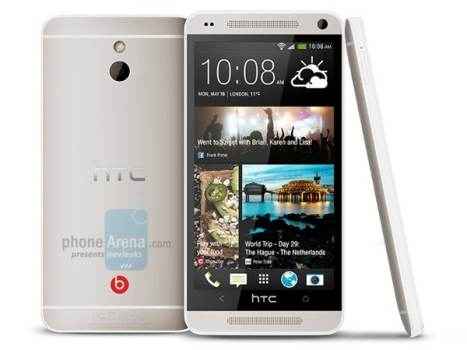 The smartphone is expected to ship in Q2 2013 and will run on Android 4.2 Jelly Bean. If you are one aspiring to pick up the One, but can't afford it, then the M4 might just be the smartphone for you. There is no word on the pricing of the HTC M4.
HTC really needs to come up with some better codenames for their smartphones. Before the HTC One was launched, it was called the M7. All we kept thinking when we thought of M7 was the BMW M7 or the M7 sub-machine gun from Halo 3. Looking at the code name M4, the M4 rifle comes to mind. We wonder what they'll think of next?
Source: PhoneArena