One of the biggest problems faced by the Micromax A116 Canvas HD is the Flipboard bug, which causes the launcher to crash if installed. Luckily there is a fix for it.
The Micromax A116 Canvas HD is one of the most anticipated smartphones and the device is available online only. There is a waiting period of up to 20 days for the Canvas HD. Its hardware is impressive and the overall performance is good (read our review). You can check out our in-depth review of the device here. But all isn't perfect for the device.
Those that have got their hands on the Canvas HD have started facing one common problem during the installation of a magazine-style news-reading app called Flipboard. Once installed, the launcher of the A116 Canvas HD crashes, rendering the device useless. But there is a cure. Follow these simple steps to get your device up and running once again.
Step 1: Shut down your smartphone. You can do this the traditional way via the power button or by simply removing the battery.
Step 2: Hold the power button and the volume rocker (both up and down) button until you see an option appear on screen.
Step 3: Tap the Volume up button to enter the device in recovery mode.
Step 4: When you see the Android icon, push the power button once.
Step 5: Use the Volume up/down button to choose the menu option. Choose the menu option by pressing the menu capacitive button.
Step 6: From the options, choose wipe data / factory reset and press the menu capacitive button to select. Navigate to the Yes "option" and press the menu button again.
Step 7: Press the reboot button and you are all set to use your smartphone once again.
Just don't install Flipboard again on the device!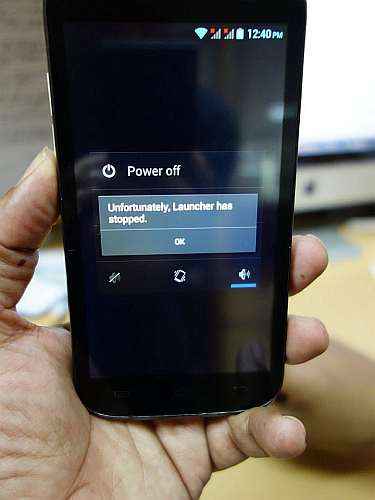 Launcher Crash
Since the error given on the A116 Canvas HD said that the launcher had crashed, we thought we'd install a third party launcher and then try to install Flipboard. We downloaded a third party free launcher, Go Launcher EX, and then installed the app.
After launching the launcher, we tried to install Flipboard. After the installation, the device randomly rebooted. Then we started getting error messages like, "Unfortunately, Calender has stopped", "Unfortunately, Search has stopped", "Unfortunately, Gmail has stopped" and then finally, "Unfortunately, Flipboard has stopped." The app refused to run after that and we had to factory reset the device for it to work properly.
Until Micromax releases a permanent fix for Canvas HD's instability issues, which cause Flipboard to crash, we suggest you stay away from the app.