HMD Globally shared the Android 11 update timeline for Nokia phones on Twitter and deletes it later.
Google has started rolling out the latest Android 11 update starting with its Pixel phones. As expected, a lot of Android users are now curious to know if and when the new update will arrive on their devices. In a long list of major Android smartphones, there's only Nokia that is still making vanilla Android smartphones under the Android One program. It promises at least three years of Android OS updates and a lot of Nokia users must be keen to know if their smartphone will receive it.
To rest those curious souls, there could be good news as HMD, from Nokia Mobile's Twitter handle, shared a roadmap of the Android 11 rollout for supported Nokia smartphones. The tweet is now removed, but Neowin got hold of a screenshot.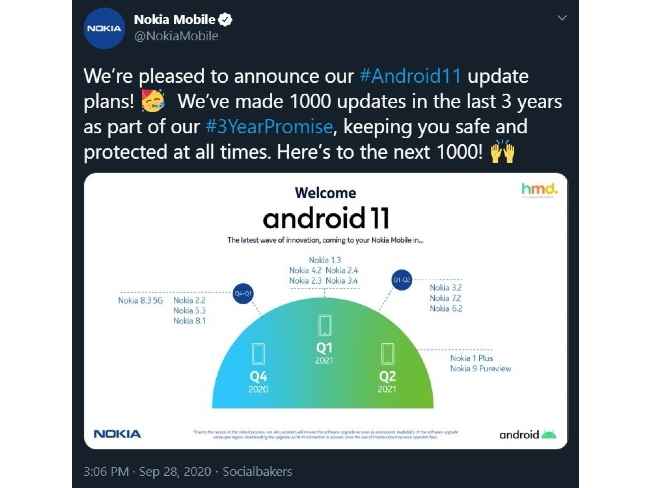 Looking at the list, HMD Global appears to be adhering to its three-year update promise. As some devices in the list were shipped with Android 9 out of the box. Here's what the leaked screenshot tells us about the supported Nokia devices and the timeline.
Nokia's smartphones to receive Android 11 update
The first Nokia smartphones to receive the Android 11 update are Nokia 8.3 5G, Nokia 8.1, Nokia 2.2, and the Nokia 5.3. As per the report, these devices will get Android 11 by Q4 2020.
The next phase of smartphones will get the update in Q1 2021. It will be covering the Nokia 1.3, Nokia 4.2, Nokia 2.4, Nokia 2.3 and Nokia 3.4. And the final phase appears to be Q2 2021, that will bring Android 11 to the Nokia 3.2, the Nokia 7.2, the Nokia 6.2, the Nokia 1 Plus, and the Nokia 9 PureView.
While we did not spot this tweet on Nokia's handle, but we were able to verify that the roadmap was tweeted and deleted soon. It's still blurry why the company took it down, but if we could guess, the company might have found some inaccuracy or was simply not prepared to make it public yet. But if it's true, everyone using one of the Nokia phones listed above can take a deep breath.