It seems like Google may be planning to give its own custom dialer a new look. XDA Developers reports that the company may be testing a new redesign that moves tabs for speed dial, call history and more to the bottom. The new UI is buried within the latest version of the app, but developers have managed to dig into the files and bring it up.
The screenshots that are posted show that the tabs are now located just above the navigation buttons, and are no longer just icons. They now also sport text labels. Aside from that, they should work in the same way as before. The move to the bottom should make them easier to use with just one hand.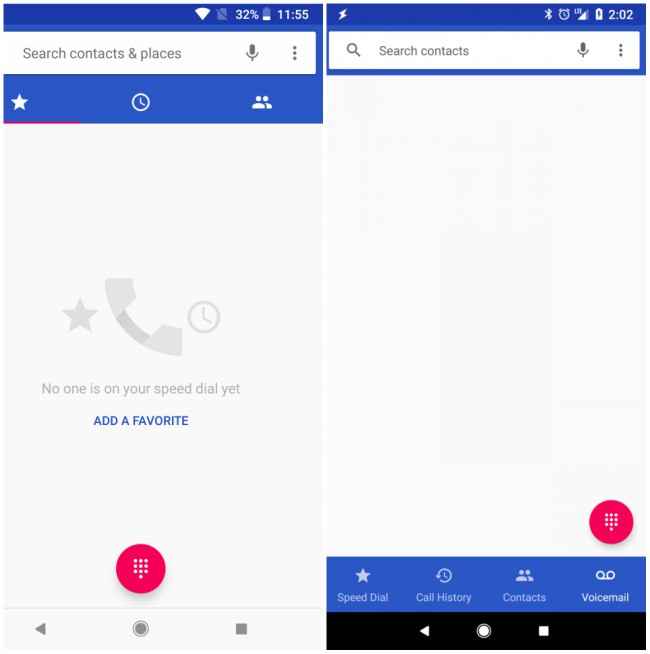 Left: Current UI, Right: New UI
It is not yet known if Google will even choose to push out the new UI as standard. The report on XDA Developers notes that users can check out the UI for themselves and they have also posted a guide on how to do so. However, users are required to mess around with the XML files, so caution is advised.
The app is currently the default dialer on the company's Nexus and Pixel devices, with the Pixel 2 series of phones. However, the new Pixel devices have seen a number of issue plaguing them, ranging from screen burn-ins, speaker problems and more. The latest seems to be a bug that stops the phone from fast charging if the battery temperature drops below 20 degrees Celsius. The report notes that when the battery temperature is about 22-23 degrees Celsius, the phone would charge at 3A. However, once the temperature dropped to below 20 degrees, it would charge at 750mA. A few days ago, some users reported that their Pixel 2 and Pixel 2 XL devices started getting warmer with reduced battery life post the February security update.