The Google Pixel 3 XL gets a reparability score of 4 out of 10 from iFixit as replacing the device's screen requires its complete disassembly.
iFixit tears down flagship smartphones to reveal what components they ship with and it has now torn apart the Google Pixel 3 XL and revealed some insights about it. As per iFixit, the Pixel 3 XL is using an OLED panel from Samsung and not from LG and it has received a repairability score of 4 (out of 10). This implies that the buyers will not only have to spend more money, along with time, to get their handsets repaired when damaged.
The iFixit teardown reveals that Google has built a sturdy phone and it's difficult to get the Pixel 3 XL open. This is due to the large quantity of foam adhesive used to glue the panels. During the teardown, iFixit found that the device's OLED display is supplied by Samsung and this might comes as a surprise because there was a speculation that the company will stick to LG for the pOLED panels, which it used in last year's Pixel 2 XL. The Pixel 2, however, used the Samsung-made OLED displays. The first generation of Pixel devices also come equipped with Samsung-made OLED panels but it was last year when Google chose LG over Samsung for the Pixel 2 XL's display.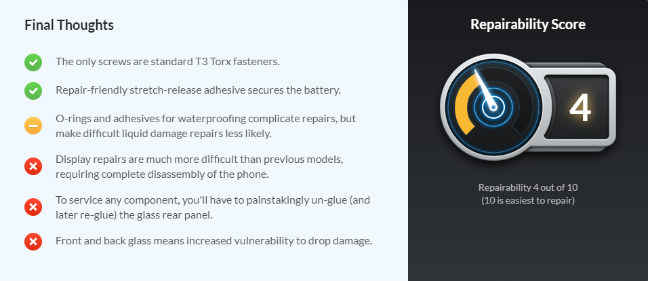 Google had reportedly invested 1 trillion Won (approximately $880 million) in LG's Display division. According to South Korea's Electronic Times, Google's investment was meant to secure the supply of OLED displays for Pixel smartphones. Google Pixel 2 XL's display suffered burning issues and the company had to release a software fix for it. By opting for Samsung-made panels, Google has apparently tried to play safe this time.
Meanwhile, while further digging up inside the phone, iFixit found that the Pixel 3 XL is using a 4GB of LPDDR4X DRAM from Micron, 64GB of Skhynix flash storage, the Pixel Visual Core, the Google Titan M security chip and a Qi wireless charging receiver from IDT. There are a few other items from Qualcomm, including the main Snapdragon 845 processor, some radios, and an audio codec chip.
Image Courtesy: iFixit