The long-awaited Google music streaming service has finally reared its head in the form of a substantial leak. Techfrom10.com apparently found an Android Music 3.0 application in the developer version of Android Market, and it, along with other sites, has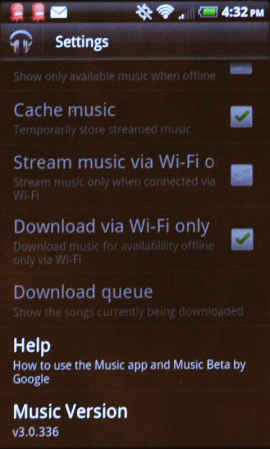 The long-awaited
Google Music streaming service
has finally reared its head in the form of a substantial leak. Techfrom10.com's
said
to have found an Android Music 3.0 application in the developer version of Android Market, and spread it around.
With Amazon just unveiling its music streaming and cloud storage service, Amazon Cloud Player and Cloud Drive, Google is now even later to the digital music party, and has to deal with both
iTunes
and Cloud Player. Amazon recently also
launched
the Amazon App Store for Android, directly competing with the Android Market for revenue and app discovery.
Speculation as to the final features of the service includes Cloud Player and Drive-style online storage and streaming of a user's library of personal and service bought music.
The biggest difference between previous versions of the Android Music and what's been found now can be observed in the settings section (left).
The choices definitely point to streaming and storage features. So far though, no direct evidence of permanent cloud storage like the Cloud Drive.
[RELATED_ARTICLE]According to
CNET
, Google has yet to procure all the licenses it would require from the music industry to make such a service legitimate, and so, the precise form of Android and Google Music offerings is yet to be laid in stone, until the fat lady sings.
Image courtesy: CNET