Rich Communication Services (RCS) is the next generation of an aging SMS protocol, which has been here since the early days of the Global System for Mobile communications (GSM). The SMS protocol is about 27 years old. As for RCS, it offers advanced features such as file transfer, typing indicators, multimedia and more. This makes it similar to iMessage.
Google has been working on RCS protocol to create its "Jibe Cloud" platform since ever. However, it has faced delays in rolling out RCS messaging on Android due to issues with getting carriers on board because RCS adoption will cut into the SMS revenue. To recall, GSMA released a Universal Profile for RCS in 2016 and two OS makers, 47 mobile operators, and 11 smartphone makers pledged to support RCS.
RCS Messaging will allow users to send rich, verified messages, which means messages will be able to carry more information and enable users to send photos, videos and audio messages to one another. Users will be able to make video calls directly from the messaging app and won't have to rely on third-party software. Further, RCS will remove the restriction of 160 character limit currently found in SMS.
As for security, RCS messages are sent with client-to-server encryption. The protocol is also said to prevent spam messages from reaching your device. This is because to send a message via RCS, a company will have to go through a brand verification process. Received RCS messages will have the company's name in the sender info, rather than just a mobile phone number.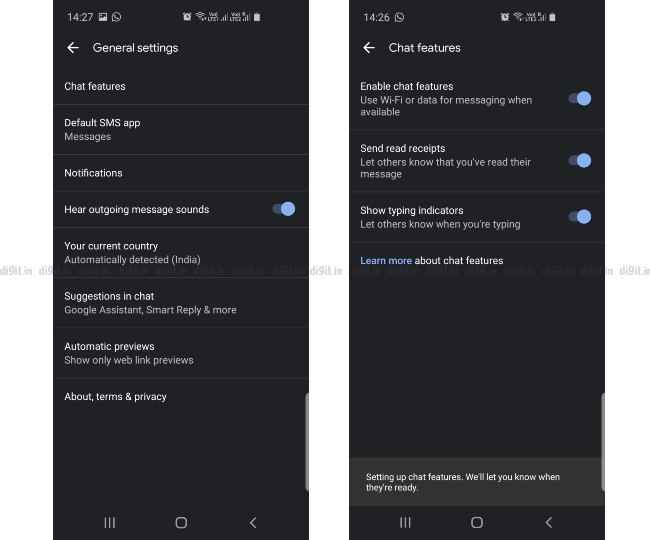 RCS has arrived in India. As of now, RCS has been spotted working on Vodafone SIM. We tested the Jio SIM, but the feature is not yet available on the operator. To enable RCS in Google Messages, you need to go to Settings > Chat Features and toggle on the "Enable Chat Features."