Google I/O is where we finally get a taste of what the next flavour of Android operating system will bring to market and this year, the flavour is AI
Google I/O kicked off today and one exciting announcement after another, we finally got a glimpse at the next version of Android. Codenamed P, we still don't know which dessert is going to be associated with this next version of Android (though there are guesses), what we don't have to guess is what to expect in the next mobile operating system from Google. If you've been long waiting to see what those "commits" in Android code were finally going to look like, well, here's your first look.
The Beginnings of An AI Powered OS
Google says that Android P will be the beginnings of an operating system with Artificial Intelligence at its very core. Dave Burke, Vice President of Engineering (Android) at Google says that one of the key areas of concern has been battery life. The AI chops of Android P will focus on analyzing your app usage patterns and control CPU behaviour in a way so that only the essential apps use precious resources. In short, Google will use AI to study usage patterns and adjust CPU use accordingly. In their internal tests, Burke says they were able to get 30 percent better battery life. Google has already established it knows far more than a thing or two about AI, so if anyone can make this happen, its Google.
Days of Simplicity
A key focus for the engineering team working on Android P has been to simplify the way the operating system interacts with you. There is a whole new gesture-based UI navigation system which had been rumoured but is now confirmed (and it's optional). There is a unique rotation confirmation setting which allows you to set rotation preferences per app and even more intuitive volume controls. Now when you hit the volume rocker, Android P will adjust the media volume by default instead of the ringer volume. The quick settings menu has also received a completely new look, as has notifications. Even the prompt you receive when there's a call coming in has changed, resembling the white box look of the quick settings panel.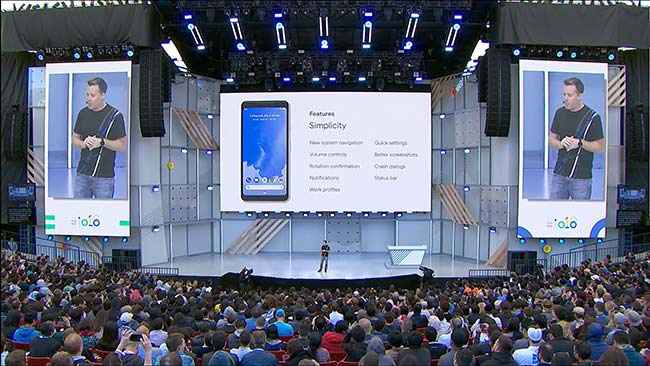 Digital Wellbeing
Technology companies have been increasingly coming under scrutiny for the impact their services and devices have on the mind of people, especially young users. Google acknowledges that there is a need for some way of monitoring just how much time people are spending on their phones. Google goes a step further and thinks its also important for people to know just what they're doing on the apps that reside on their phones, how many times they unlock their device and for what. The solution is Android Dashboard, a tool which will give you detailed analytics on the way you use your device and for what. You can even set timers on various apps, limiting the amount of time you spend using them. Once the pre-defined time limit is up, the icon will simply turn to greyscale, indicating that you've exhausted your allowance. Distractions can also come in the form of notifications, or the need to be on the phone while in bed. Google's also introducing a Wind Down mode in Android P which will switch on Night Light when it gets dark, along with turning on Do Not Disturb. The screen will also fade to grayscale at the time you have chosen as your bedtime.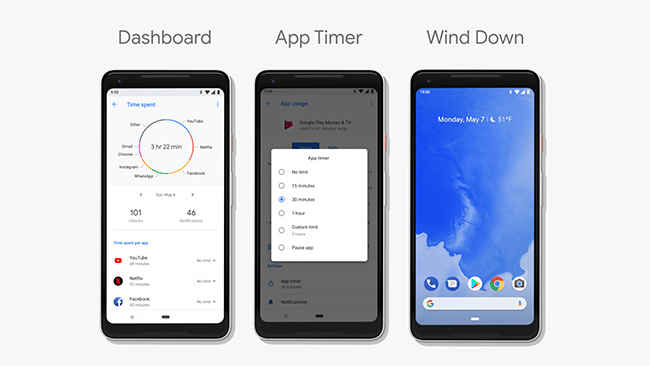 Besides the three main feature of Android P, there are a lot of neat visual treatments the OS has received to give it a fresh look. Unfortunately, Google didn't spend any time talking about Android P supporting up to 5 devices paired via Bluetooth, but the open beta version does seem to have the option available. We will be bringing you a full hands-on of Android P very soon, detailing all the major changes and whether they work or not. Google has announced the Open Beta program for Android P starting today, and for the first time ever, there are a number of non-Google phones that will also be a part of the program, including the upcoming OnePlus 6. Don't get too hasty with the update. Watch out for our in-depth analysis of Android P where we put our Pixel 2 XL to risk so that you don't have to.