Google recently released a dedicated camera app for Android Go devices, called Camera Go. It's a watered-down version of the Pixel camera app and so far offered limited features. But a new report from XDA-Developers revealed Google is testing HDR photography for Android Go devices.
While the camera app itself is pretty barebones, it does offer a host of never-before-seen features in entry-level devices including portrait photos. Now, you may be able to enable HDR photos on low-end devices.
HDR mode in the Google Camera Go app
When Gcam modders on XDA got hold of the Camera Go app, they found out a setting with a 'Detail Enhance' toggle. Turning it on should enable HDR mode, but the modders didn't notice any difference yet. Maybe Google has kept the option as a placeholder for now, to include HDR photos in a future update.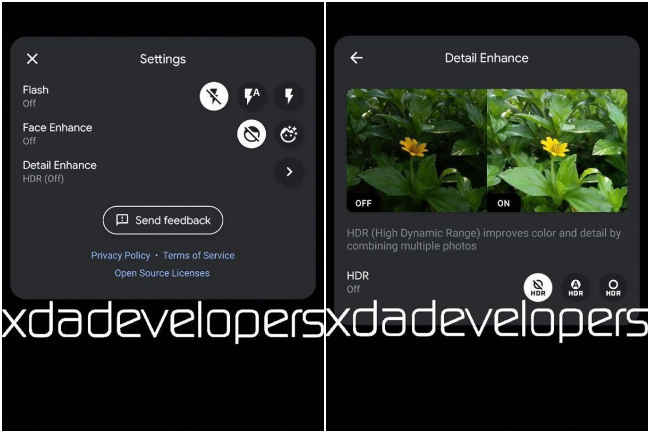 There are three toggles in Detail Enhance - Off, Auto and On. However, it's unlikely it will work in the same way that Google's HDR+ algorithm does on the Pixel phones. HDR+ requires on-device processing that relies on advanced ISPs on high-end smartphones.
HDR or High Dynamic Range is a way to add more dynamic range to the photos. HDR algorithm involves taking multiple photos of varied exposures and fusing them together to create one well-lit images with details in the shadows and highlights.
On the other hand, HDR+ is Google's proprietary algorithm which it started using with the Nexus 5. The algorithm, according to Google, takes more shots to get more details out of it. The magic is in the way Google processes and combines these images.
If Google does manage to implement HDR+ in its Camera Go app, a lot of smartphone users stand to benefit from it. The Google Camera app is easily sideloadable in many devices and sometimes it does lead to a significant improvement in camera output. The Camera Go app can be a good fit for many under-powered entry-level devices and who doesn't want a good camera in their hands?