Want to modernise your banking loan application?
Build an application that analyses credit risk with #IBMCloud Pak for Data on #RedHat #OpenShift
Click here to know more
Advertisements
Google Assistant can now answer some Hindi queries, albeit in a limited fahion. The company's AI-based assistant can now understand voice commands in Hindi and displays results in the same language. The Assistant is currently limited to replying in text and Hindi voice replies aren't supported yet.
A spokesperson from Google got in touch with us and stated, "The Google Assistant on Android phones and iPhones is currently available in English in India, built for English input but supporting a few selected Hindi queries. While we've launched the Hindi Google Assistant on Allo, it's not available on phones yet. We are looking to bring the Assistant experience to more Indian languages over time."
First reported by Android Soul, the feature is only accessible if the user has selected 'English (India)' as their preferred language. This can be done by heading into Language and Input section under Settings. Keep in mind that if you have multiple languages selected, English (India) needs to be on top of the list.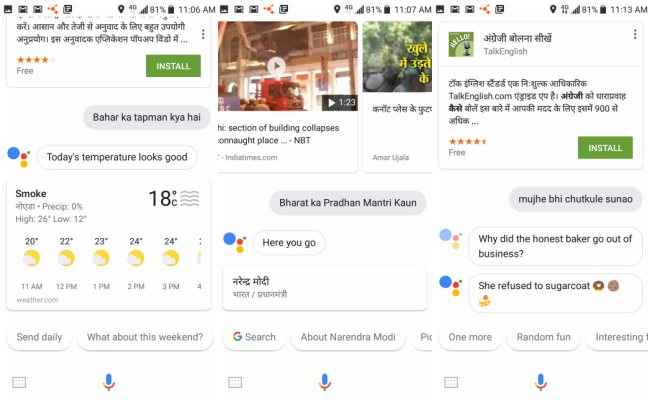 In December last year, the company demoed a special version of the Assistant for the JioPhone. That version of the assistant responded to commands in Hindi or English. The Assistant on the phone is only capable of opening apps, searching the phone, sending text, make calls, play song and more. It should also be noted that JioPhone runs on KaiOS. Further, the company had also announced that it was rolling out Actions to the Assistant. This is similar to the Skills feature on Amazon's Alexa and allows tie-ups with third party apps.
Earlier this month, Google announced that it was bringing the Assistant to Android Auto. The addition would bring a host of new intelligent functionalities such as controlling the user's home air conditioning if it is linked with the Assistant. Further, since the Assistant is AI-based, user's will get much better responses.