While there is no sure way to know what kind of hardware or software features Apple will integrate into their next device, there are some things which offer clues to what the Cupertino based company is working on. One such source is the U.S. Patents Office, where Apple files for new patents almost on a weekly basis. A new patent filed by the company on Thursday reveals a method for firing up the camera from the lock screen without any user intervention, as a means of making sure the camera is ready to shoot by the time it gets to the shoot position.
The patent carries the title "APPARATUS AND METHOD FOR AUTOMATICALLY ACTIVATING A CAMERA APPLICATION BASED ON DETECTING AN INTENT TO CAPTURE A PHOTOGRAPH OR A VIDEO." The goal of the new process is to ensure that you don't miss the moment you want to capture because the camera didn't get activated quickly enough. While Apple does include a shortcut on the lockscreen for the camera, it still takes a fraction of a second longer than most people would like. The time it takes for the camera to be ready to shoot could be the time in which the moment passes. This new method described by Apple in its latest patent filing tries to eliminate this problem. By using the army of on-board sensors such as the accelerometer and the gyroscope, the system will be able to determine the minute your hand/phone reaches a shooting position. The camera will, in the mean time, try and detect any subjects in the frame and if the conditions are met, will launch the camera from the lockscreen.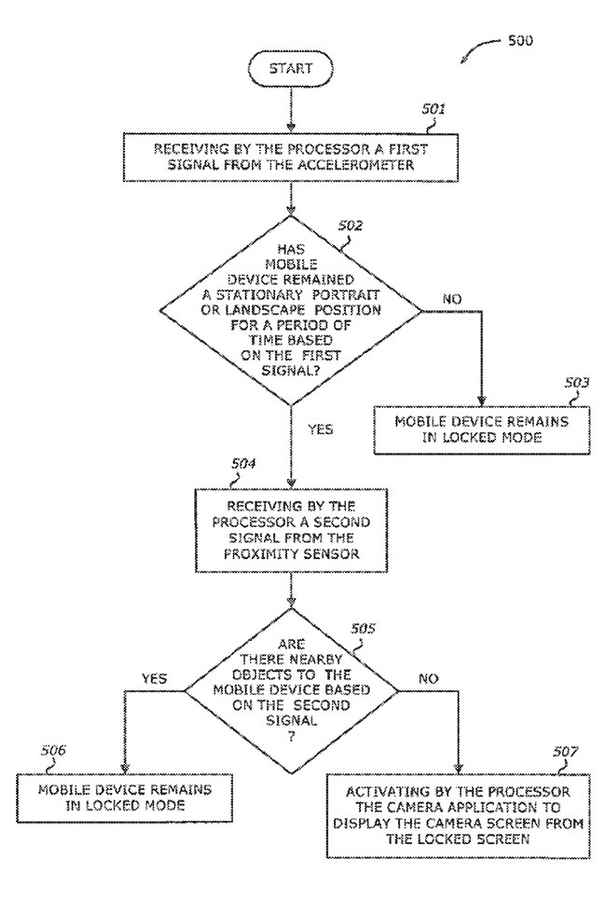 The idea is described in the patents as a rather neat and simple flow chart but involves complex processing. There's also plenty of room for error, for example, what if the phone is held in an unconventional manner or angle in order to take the photo or what if the camera is not able to recognise the subject? Then there is also the scenario of false positives, where the camera comes up when not needed.
This whole method is part of a patent that Apple has filed for, but not yet been granted. It is entirely possible that Apple may implement this before the patent is even granted or that they never do even after winning the patent.