#IBMCodePatterns, a developer's best friend.
#IBMCodePatterns provide complete solutions to problems that developers face every day. They leverage multiple technologies, products, or services to solve issues across multiple industries.
Click here to know more
Advertisements
Update: Apart from the iPhone 7 256GB deals detailed below, Flipkart is also offering discounts on the 32GB and 128GB versions of the phone. The ecommerce platform has a Rs 12,500 discount on the iPhone 7 128GB, bringing its price down to Rs 57,499. The 32GB iPhone 7 is now available for Rs 47,999 at a discount of Rs 12,001. The silver iPhone 7 Plus 32GB variant is also on sale and is now available at Rs 61,399, with a further exchange discount of up to Rs 19,000. Multiple variants of the Apple Watch series 1 are also on sale today.
Flipkart's Apple Days Sale is on and the e-commerce website is offering big discounts on Apple's iPhones right now.
The iPhone 7 256GB variant is currently available on Flipkart with a flat discount of Rs 20,001. The smartphone is now priced at Rs. 59,999 post the discount. The iPhone 7 is available in Silver, Jet Black, Rose Gold, and Black colour variants. In addition, Flipkart is also offering upto Rs 19,000 on exchange of old devices in lew on the iPhone 7, bringing its cost down significantly. For instance, if you exchange your Google Pixel, you could get the iPhone 7 256 GB variant for as low as Rs 41,000. A similar deal is available on the iPhone 7 Plus, but only for the Black, Jet Black 128GB variants. The iPhone 7 Plus Black/Jet Black 128GB variants are available at Rs 70,899, with a 13% discount. After exchange the price of Apple's king flagship can come down to Rs 51,999.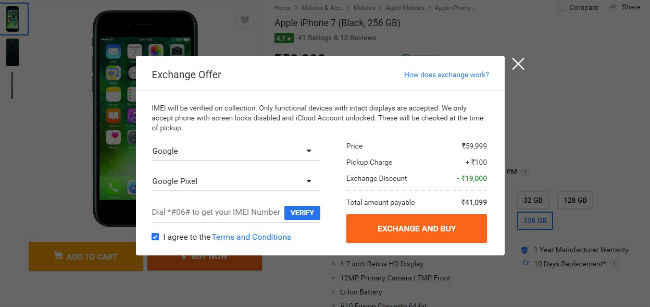 Flipkart is also offering discounts on the two generation old iPhone 6. A 16GB Space Grey variant of the iPhone 6 is now available for Rs 25,990, after a flat discount of Rs 26,010 discount. However, people who use a lot of apps and download content on their smartphones should stay away from a 16GB storage iPhone as the space on the device runs out in no time.
Other discounts on Flipkart's Apple Days sale include - Rs 6,000 off on the iPhone SE 16GB variant bringing its price to Rs 20,999; Rs 2,501 off on the iPhone 5S, now priced at Rs 17,499; Rs 8,000 off on the iPhone 6s, now priced at Rs 39,999. Discounts are also being offered on the Apple Watch, iPads and more.
You can check out Flipkart's Apple Days sale here.