Samsung has made the Galaxy Note 5 smartphone official. The company's newest flagship, comes with the same Exysno 7 Octa processor as the Galaxy S6, but is coupled with 4GB of RAM. There is also a 16MP rear camera, along with a 5MP front camera. Like last year's Note 4, the Galaxy Note 5 also has a 5.7 inch QHD SAMOLED display, but the materials used to build the phone have changed. Samsung has given the phone a glass back, like the Galaxy S6, but the Note 5 has a curved glass on its rear. The phone will go on sale in the US from August 21 and there is no word on its availability in India yet. The Samsung Galaxy Note 5 is expected to be priced at the same as the launch price of the Galaxy Note 4 though.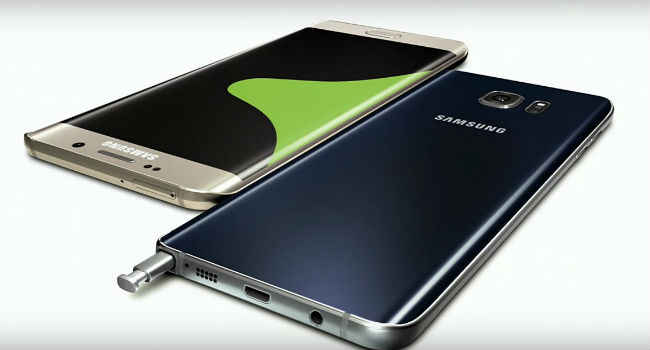 Going through the remaining specifications, the Galaxy Note 5's rear camera has a f/1.9 aperture and optical image stabilisation (OIS). The device will be available in 32GB and 64GB variants, and runs on Android 5.1.1 layered with Samsung's familiar Touchwiz UI. There is also a 3,000 mAh non-removable battery, and according to Samsung, the phone supports both wireless and quick charge technologies. In fact, the company says that the Galaxy Note 5 will charge as fast as the Galaxy S6 or S6 Edge. It is of course 4G capable.
Samsung has also made changes to the S-Pen allowing users to add favourite apps to use the S-Pen with. In addition, you can now use the S-Pen to draw on the display, even when it is turned off.
Samsung has also launched the Galaxy S6 Edge Plus along with the Note 5. This presumably takes the role of the Edge screen device, since it has exactly the same specifications as the Note 5, but is a little bigger in size and has a dual-edge display.
Lastly, Samsung also teased its next smartwatch, which will be called the Samsung Gear S2. This device will be launched at IFA, Berlin next month and will have round display. This will be Samsung's seventh smartwatch in two years. Samsung also officially launched its Samsung Pay payment system.