Audi announced an Android tablet that interacts directly with its cars at this year's Consumer Electronic Show in Las Vegas.
Yes!, you've read that right, German car maker Audi has announced an Android tablet that interacts directly with its cars at this year's Consumer Electronic Show in Las Vegas.
The 10.2 inch Android powered tablet is designed for in-vehicle use that interfaces directly with Audi range of cars made possible via the company's partnership with Google and the Open Automotive Alliance announced at CES. In-case you are wondering what is the Open Automotive Alliance, well it's an effort by Google to amalgamate its AndroidOS with cars. Although not much has been revealed about Audi and Google's plans over such an alliance other than the fact that this forms a part o a broader spectrum of car companies, the likes of General Motors and Honda are also a part of this initiative.
"It is not just another tablet which you can put in the car, even if it looks that way,"It represents the perfect combination of the latest technology from the world of consumer goods with the sturdiness and reliability form the world of cars", adds Ricky Hudi, Audi Head of Electric and Electronics Development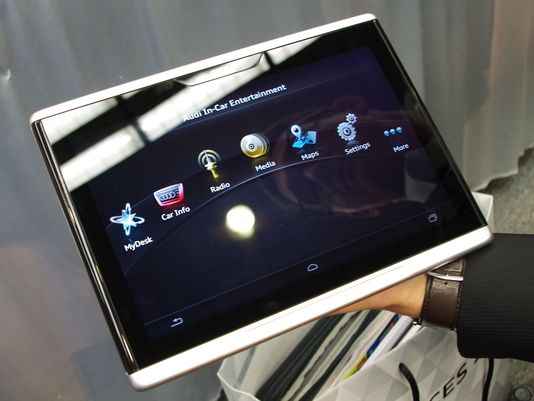 The tablet will be powered by a Nvidia Tegra 4 chip and connects to the vehicle's WiFi which eventually integrates directly with the car's radio and other media functions.
At this stage we are not sure whether the tablet will be sold with new Audi vehicles, or as a seperate accessory or not sold at all.
In addition to the unveiling of the tablet, Audi's Head of Electronic Development Ricky Hudi focussed mostly on discussing five areas of technological innovation for car manufacturers namely - lighting, connectivity, infotainment, piloted driving and human machine interface. "90 percent of all innovations in a car are related directly or indirectly to electronics", adds Hudi.
Meanwhile, sharing his insights on connectivity, "With Audi connect, our models are the perfect mobile device for our customers", said Hudi. With Audi connect, drivers can have access to Google Earth, get updates about traffic conditions and other related information via the car's own interface. As the German car maker announced that all Audi vehicles come equipped with AT&T LTE service through Qualcomm parts.
Talking about infotainment, Hudi also announced that a second-gen Mobile Infotainment Platform 2 powered by a quad-core Tegra 30 processor, will feature this year in the new Audi TT.
Finally, they ended the press conference emphasising on the fact that Audi's new line up of cars embrace technology without compromising on the car itself, with driving and performance still being their number one priority, although the number 2 being Audi Connect.
Source: Techradar