Last month, BlackBerry announced that it would unveil the new BlackBerry Key2 on June 7 at an event in New York. Just a few days before the date, a leaked press render was exposed on Twitter by mobile reporter Evan Blass.
In total, renders of the BlackBerry Key2's front face, the camera setup on the back, the sides, colour options, and the spec sheet were leaked in the tweet, with some uploaded as comments. According to the leaked spec sheet, the new BlackBerry will have a 4.5-inch IPS LCD display with a resolution of 1620 x 1080 pixels. The camera configuration includes two 12-megapixel sensors on the back and a 8-megapixel fixed focus sensor on the front. The processor is a Qualcomm Snapdragon 660 that's aided by 6GB of RAM. The battery is a 3,500mAh unit. The BlackBerry Key2 will run Android 8.1 Oreo out-of-the-box.
The BlackBerry Key2 inherits the display-and-physical-keyboard combination from its predecessor, the original BlackBerry KeyONE, which was the first model to bring back the classic BlackBerry look after a long time. It also inherits the fingerprint sensor which is integrated into the spacebar key of the physical keyboard. As the leaks suggest, the BlackBerry Key2 should arrive in two colours: all-black and black with silver edges.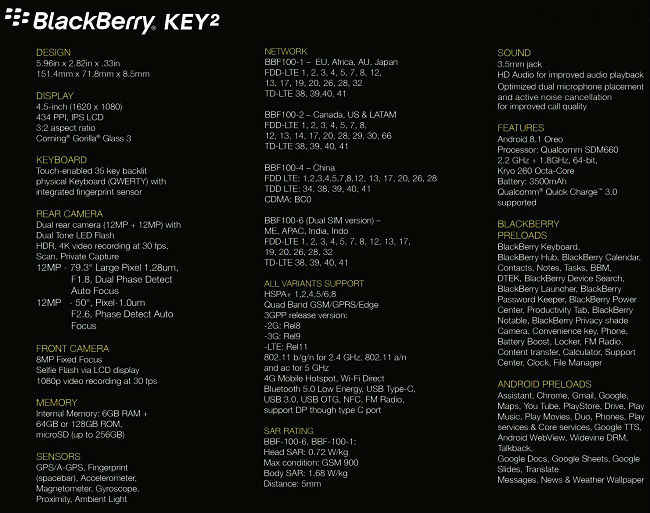 Three weeks ago two BlackBerry models were spotted on Geekbench, revealing that one would be the BlackBerry Key2, while the other would be what was rumoured to be a 'Lite' version of the BlackBerry Key2. While it's certain that BlackBerry will launch the Key2 tomorrow, it's unclear if it will be accompanied by the rumoured Key2 Lite or any other variant.