That's the most amount of RAM we've seen on an Apple mobile device so far.
The amount of RAM on new Apple devices have always been a question consumers have asked. The company still doesn't conform to industry norms, since iOS requires much lesser RAM than Android. Apple has been increasing the amount of RAM on its devices as tech progresses, but the company is yet to reach that 6/8GB level, where Android already is. Let's just say, Apple is halfway there.
As it turns out, the amount of RAM on the new iPad Pro devices is 4GB. That includes the 10.5 inch and 12.9 inch versions of the iPad Pro, both of which were benchmarked on Geekbench recently. The benchmark shows that along with Apple's A10X chipset, the tablets also have more RAM than any of Apple's mobile devices so far.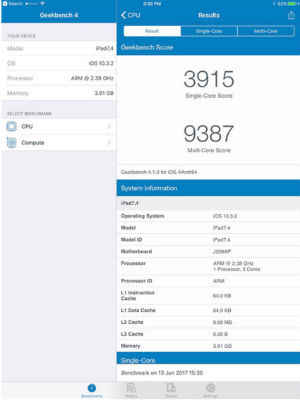 That doesn't necessarily mean Apple's entering the spec race though. In fact, higher RAM on the iPad Pro makes sense, since the company is sort of positioning the device as a tablet replacement, and one that's meant for creators. Apple has repeatedly proven iOS' resourcefulness in terms of memory consumption. The upcoming iPhones for 2017 are also expected to top out at 3GB of RAM.
4GB of RAM on these two iPad Pro is possibly because Apple envisions a lot of pro level tools being put to use on the devices. The A10X processor is possibly the fastest mobile chipset you can get at the moment, so Apple is giving it a healthy backup of memory to bank on.