The Asus ZenFone 7 or 7S has been spotted on Geekbench. It could be powered by the Snapdragon 865. It could also come with 16GB RAM.
The follow up to the Asus ZenFone 6 or Asus 6z, the Asus ZenFone 7/7Z has been reported to have been spotted on Geekbench. With the codename 'asus zF', the phone has been listed on the benchmarking portal. If rumour is to be believed. This particular phone could be the Asus ZenFone 7, also called the 7Z. Tipster, Ashish Yadav first spotted the listing and was it also verified by Gadgets 360.
Asus ZenFone 7 or 7Z spotted on Geekbench
From the listing, we can see that the phone is powered by a processor which is also codenamed 'kona'. We also know that 'kona' is a code name for the Snapdragon 865 SoC. It also allegedly comes with 16GB of RAM and runs on Android 10. It received a score of 973 on single-core performance and 3346 on multi-tests. The phone could be called the Asus ZenFone 7 in the global market. In a Quallcome press note, which took place in February, it was revealed that the Asus ZenFone would be powered by the Snapdragon 865 SoC.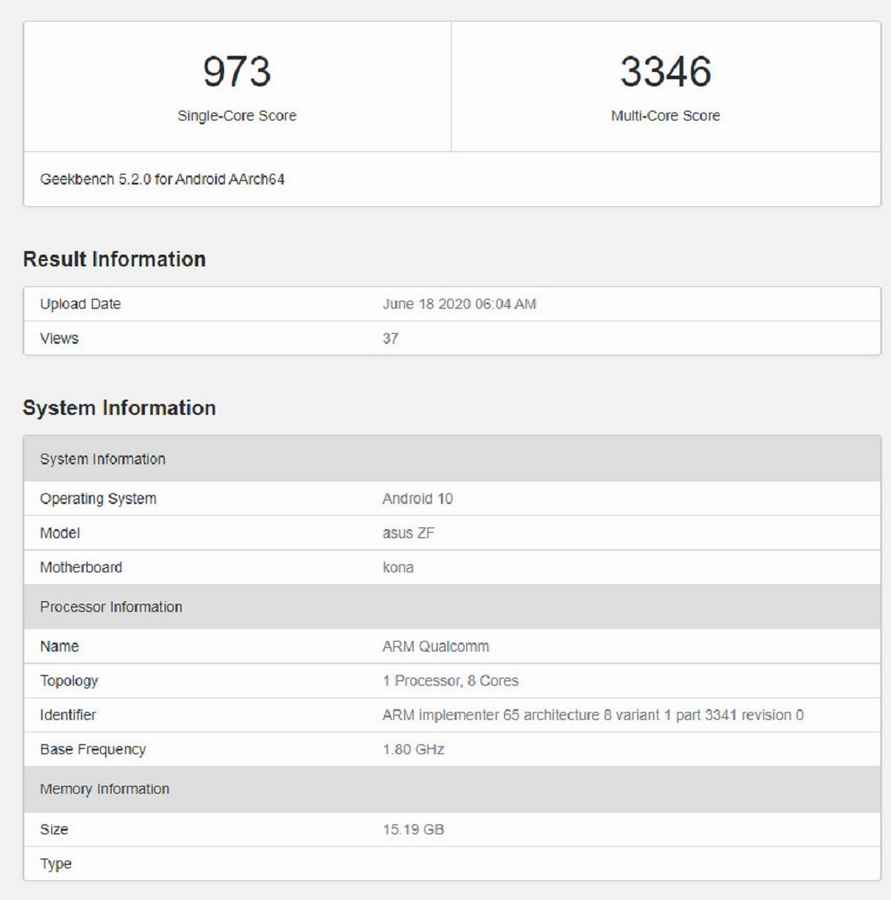 The company lost a trademark case to Telecare Network India which is why it is no longer permitted to use the ZenFone branding in India. This is why, if the Asus ZenFone 7 does come to India, it will be rebranded as the Asus 7Z. In fact, just a few hours earlier, the Asus ROG III was allegedly leaked in a hands-on video. You can check that story out here. The Asus ROG III was also spotted on Geekbench with a Snapdragon 865 and running on Android 10.