Meanwhile, Oppo's worldwide smartphone sales more than doubled to make it the No. 4 smartphone vendor
The worldwide sales of smartphones grew by 7 percent in the fourth quarter of 2016. This quarter saw Apple leapfrog Samsung as the No.1 smartphone vendor globally. Gartner says, Q4 2016 saw sales of 431 million smartphones to end users.
Out of this figure, Apple managed to sell 77 million iPhones in Q4 as opposed to 76.78 million smartphones sold by Samsung. Apple has regained the top slot from Samsung after eight quarters. It is also worth noting that the difference between the two vendors was mere 2.56,000 units. "This is the second consecutive quarter in which Samsung has delivered falling quarterly smartphone sales," said Anshul Gupta, research director at Gartner.
According to Gartner, Samsung faced competition from Chinese smartphone vendors during this quarter. "Samsung's smartphone sales started to drop in the third quarter of 2016. The withdrawal of the Galaxy Note 7 left a gap in its large-screen phone range," added Gupta.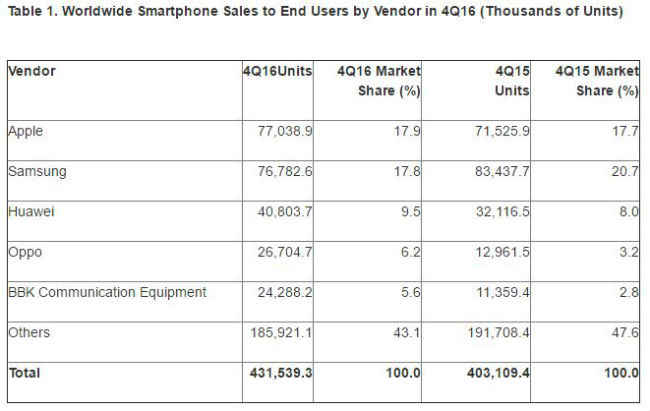 In Q4, the smartphone market share of top Chinese vendors grew by 7 percentage points. Huawei maintains the third spot while Oppo and BBK Electronics make their debut in the list. Oppo's market share grew from 3.2 percent to 6.2 percent while that BBK doubled to 5.6 percent. BBK Communication Equipment sells smartphones under the brand name Oppo, Vivo and OnePlus.
Smartphone sales in 2016 calendar year saw a marginal increase of 5 percent from 2015. The worldwide smartphone sales to end users came in at 1.5 billion units this year. Samsung leads this pack with sales of 306 million units translating to 20.5 percent market share. The South Korean company's share shrunk by 2 percent due to negative demand and the Galaxy Note7 failure.
Apple's annual sales declined 1.5 percent from 2015 with sales of 216 million iPhones. Huawei, Oppo and BBK Communication Equipment saw significant growth in sales. "Its strong position in China and continued growth of sales in the markets outside China have helped Oppo position itself as the No. 4 smartphone vendor worldwide," Gartner says in a press note.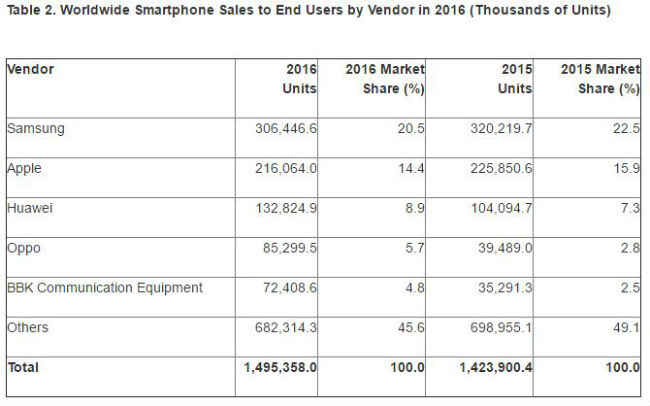 In the mobile operating system space, Android extended its lead to 82 percent. Apple's iOS maintained its position, while quite understandably, Windows and BlackBerry almost turned obsolete.
For the year ahead, Gartner sees Oppo, Huawei, BBK and other Chinese vendors expanding into markets outside China. While Google's Pixel launch has turned the premium Android category more competitive, Gartner sees the re-entry of Nokia with HMD Global as a sign to further increase competition in emerging markets.