Apple has started rolling out its promised battery management feature through the release of the latest iOS 11.3 Public Beta 2. The feature is called 'Battery Health (Beta)' and is expected to be released with the final version of iOS 11.3 for all iPhone users. Battery Health (Beta) was a feature promised by Apple after it was hit by one of the biggest controversies in the smartphone industry till date. Apple was found to be throttling performance on older iPhones to avoid unexpected shutdowns due to degrading batteries. The company later slashed the cost of battery replacement for iPhones.
The new Battery Health (Beta) feature helps iPhone users determine battery capacity and peak performance capability as well as disable performance throttling. Those who wish to get the feature right now, will need to enroll for the iOS public beta programme. You can follow the instructions here to get onto iOS 11 Public Beta. However, users should note that public betas can be unstable to use as they are generally used to gain feedback from users.
If you do go ahead and install iOS 11 Public Beta 2 on your iPhone, you can head to the Battery option in Settings to find the new 'Battery Health (Beta)' option. Users should note that the option is only relevant for iPhone SE, 6, 6 Plus, 6S, 6S Plus, 7, and 7 Plus. According to Apple, the iPhone 8, 8 Plus and iPhone X already include hardware improvements to tackle battery issues.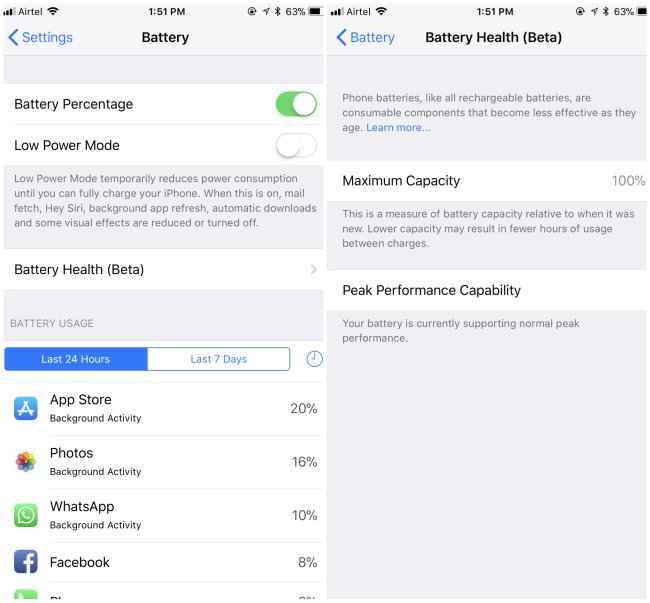 "iPhone 8, iPhone 8 Plus, and iPhone X models include hardware updates that allow a more advanced performance management system that more precisely allows iOS to anticipate and avoid an unexpected shutdown," Apple wrote in a letter responding to questions on the iPhone slowdown from Senator John Thune.
While those on iPhone 8, 8 Plus and X also get the Battery Health (Beta) feature with iOS 11.3 Public Beta 2, only those using iPhone SE, 6, 6 Plus, 6S, 6S Plus, 7, and 7 Plus will be able to disable performance throttling through a toggle. For these older iPhones, Battery Health (Beta) will display a warning saying that the battery has "significantly degraded" accompanied by a link explaining how to get batteries serviced, if the capacity is at 80% or lower. It could take upto three weeks to get your iPhone's battery replaced in India due to a sudden surge in such requests since Apple dropped costs.
There's also a toggle to turn off performance management on iPhones with degraded batteries, but it comes with a catch. The toggle is disabled by default on iOS 11.3 and is only re-enabled if the device experiences an unexpected shutdown.
Other than Battery Health management, iOS 11.3 will also bring features like iMessage storage on iCloud, an improved ARKit version 1.5, new Animojis and more.