Apple on Tuesday sent out invites for an event it is holding on September 12, 2012. The event is scheduled to begin at 10am PST (10:30pm IST).
At the event, Apple is expected to unveil its sixth generation iPhone popularly known as the iPhone 5. The event will take place at the Yerba Buena Center for the Arts in San Francisco.
The invite sent out reads, "It's almost here" with a big 12 signifying the date. There is a 5 that rests in the shadow as well.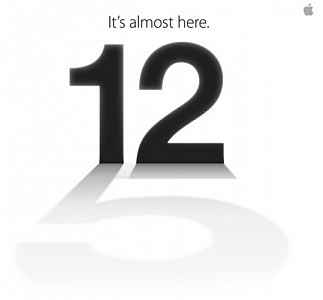 There have been a number of rumours about Apple's next-gen device. For starters it is expected to ditch the current 30-pin dock connector for a new smaller dock connector. You can read all about the new dock connector here.
The design and look of the device may be leaked but the power under the hood has been kept quite hush. Still, rumour mills have churned out that the iPhone 5 may run on a new A6 quad-core processor, based on Samsung's Exynos 4 architecture. You can read the complete story here.
The iPhone 5 is expected to be a complete redesign when compared to the looks of the iPhone 4 and the 4S. It is expected to have a bigger display. You can take a look at the assembled iPhone 5 from leaked parts here.
The iPhone 4 was the first device to feature a micro SIM and the iPhone 5 is expected to introduce with it the Nano SIM. You can take a look at the Nano SIM tray of the iPhone 5 here.
The new device will bring with it Apple's new mobile OS, iOS6. iOS 6 is expected have some radical new features. For starters it will ditch Google Maps for its own Maps app and You Tube will no longer be a preloaded app on the device. The YouTube app will still be available via the app store.
The rumours suggest that Apple is taking some bold steps with the new iPhone. But all the rumours will be put to rest once Apple unveils the device on September 12.
The iPhone is expected to share the limelight with another Apple device expected to make an appearance – the iPod Touch. The iPod touch has always been an iPhone without the phone. If the iPhone is receiving a complete redesign, then rest assured so will the iPod Touch.