Make 2021 your best year with IBM Developer
Make 2021 the year where you truly shine, grow, build & Code. Get support and motivation from the IBM Developer community. #IBMDeveloper #CodePatterns
Click here to know more
Advertisements
Information circulating the Internet confirms that the Apple's A9 SoCs are being manufactured by Samsung and TSMC. Prior to the launch of the iPhone 6s and the 6s Plus, it was rumored that both these companies entered into a contract with Apple to manufacture the A9 SoC. Even though the SoC made by both manufacturers are same, there are some fabrication differences which have come to light.
This latest reveal comes from Chipworks which like iFixit takes a close look at the internals that power gadgets. When Chipworks took an "X-Ray" of the new iPhone 6s, they found that two distinct models of the iPhone had the the same SoC but these SoCs had different die surfaces. According to the people at Chipworks the Samsung made Apple A9 chip occupies a die surface of 96mm2 and the one made by TSMC has a die surface of 104.5mm2. While both SoCs are identical in terms of structure, the difference lies in the size of the die and the fabrication process.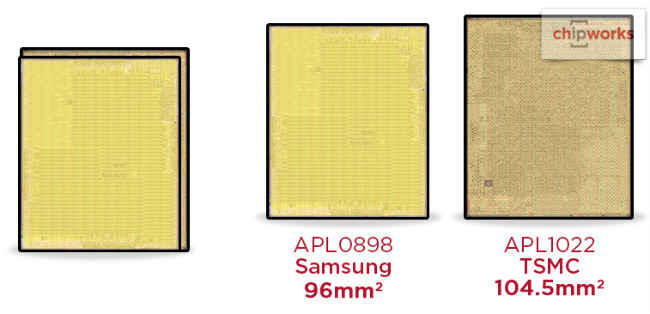 Both dual-core SoCs, the APL0898 which is made by Samsung and the APL1022 which is made by TSMC are made using the FinFET non-planar architecture. However, the difference in size comes due to the fact that the Samsung made APL0898 is using a 14nm semiconductor fabrication and the APL1022 made by TSMC is using the 16nm semiconductor fabrication. The 8% size difference between the two is not something to be worried about, but according to Chipworks, there could be a difference in benchmark scores. Chipworks hasn't released any benchmark results but we will keep you updated as soon as we get any information about the difference in benchmarks. The average consumer doesn't need to worry about the difference in the A9 SoC as the performance of the smartphone won't be affected.
Earlier, it was also rumoured that Samsung is making the A9X SoC, the one powering the iPad Pro. After the above reveal, we can assume this to be true.
The biggest problem Apple is facing today is that they can't match the increasing demand for their new flagship smartphones. The company sold almost 13 million iPhones (6s and 6s Plus) in the first weekend. Apple is expected to bring the iPhone 6s and the 6s Plus in India by next month. Same is presumed for the iPad Pro, iPad Mini 4 and the updated iPod Touch.