AnTuTu, an industry standard benchmarking tool has released the list of phones that are the 10 highest ranking on their tool for the month of July. Right on top is Xiaomi's Black Shark with an average score of 288187. The rankings are put together using an average of AnTuTu scores submitted by users. The second phone on the list was the OnePlus 6, followed by the Xiaomi Mi 8.
What's interesting about the findings published by AnTuTu is that the Xiaomi Mi 8 is actually the first smartphone to breach the 300,000 mark. They say that the data collected on the phone has been through prototypes and test models and that they expect the numbers to go even higher as more commercial units are benchmarked with the final, optimized ROM. The top six best-performing smartphones for the month of July are as follows: Xiaomi Black shark (average score 288,187), OnePlus 6 (average score 284,830), Xiaomi 8 (average score 271,372), Asus ZenFone 5Z (average score 267,257), Snapdragon 845 version of Galaxy S9+ (average score 264,115) and Sony Xperia XZ2 Compact (average score 261,448). The Exynos 9810 powered Samsung Galaxy S9+ just barely makes its way into the top 10 with an average score of 247617, taking the last spot on the list.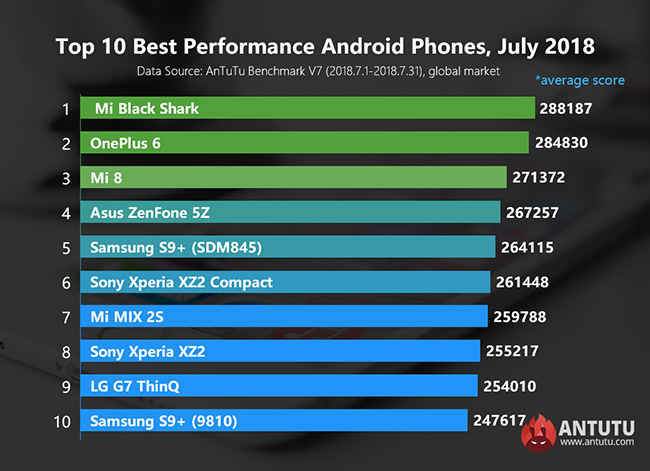 What is interestingly missing are numbers for the Asus ROG Smartphone which was revealed during Computex. Antutu does say that they have aggregated scores from a minimum of thousand phones per model, and since the ROG phone is not yet available globally, the phone is still missing from this list. Two other notable Snapdragon 845 phones missing are the Oppo Find X and the Vivo NEX, which are also yet to become available globally in general.
What is interesting is that while most of the phones on this list are the expensive kind, two of the cheapest Snapdragon 845 powered smartphones, the OnePlus 6 and the Asus Zenfone 5z also make an appearance on this list. While the OnePlus 6 holds the number 2 spot, the Zenfone 5z is at number 4, meaning that performance is no longer a premium feature. Hopefully, it's only a matter of time when the performance like this can be seen in cheaper price segments.