While eyes are set upon today's unveiling of the new iPhone, Google's Andy Rubin has tweeted few hours ago that there have been half a billion android activations to date, with over 1.3 million added every day.
Rubin's tweet comes days after Google's CEO Google Executive Chairman Eric Schmidt statement that 1.3M Android devices activated each and every day. Schmidt disclosed the numbers at the opening of Motorola's "On Display" event. Shcmidt, however, acknowledged that of 1.3 million Android activations, only 70k belonged to tablets. He also said that there are about 500 million Android devices globally right now.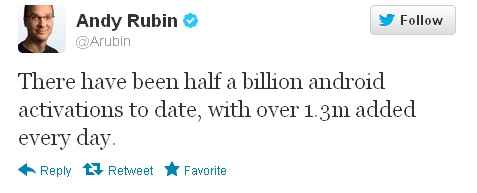 Google's Android platform has seen a rapid growth over the years. Back in December, there were about 700,000 devices activated each day. Earlier this year, the figures grew to 900,000.
While the iOS platform has remained exclusive to Apple's devices, Android has been adopted by major manufacturers such as HTC, Sony and Samsung. Moreover, the budget smartphones have also helped boost growth of Android across the world, especially in emerging markets such as India. RIM's BlackBerry has slumped way behind in the race, while Nokia is banking on the forthcoming Windows Phone 8 OS.
As far as Android flavours go, Jelly Bean is now running on 1.2 percent of Android devices, while its predecessor v4.0 Ice Cream Sandwich is active on about 21 percent of devices. Gingerbread, the top Android platform, is running on 57.2 percent devices. Read the distribution of Android OS here.