After announcing the Android Go program at the I/O Conference earlier this year, Google has unveiled Android Oreo (Go Edition) at the "Google for India" event in New Delhi. The light-weight Android version is made so that low-end phones with less than 1GB of RAM run without a hitch.
Android Oreo Go is essentially a build of Android Oreo that is optimised to run smoother on phones with RAM as low as 512MB to 1GB. It is Google's way of making sure all smartphones, whether high-end or low-end run smoothly. Android Oreo Go isn't a fork of Android. It is more of a variant that OEMs can enable by just ticking off a configuration flag. Google says that the Go Edition of Android will be updated alongside each Android version, such as Android P (Go Edition), Android Q (Go Edition) and so forth.
Once the configuration flag is set off, the phone is made to use the "Go" version of Google apps — YouTube Go, lighter versions of Google Assistant called Assistant Go, Gmail, Google Maps and the likes. Apps like YouTube Go are specially tailored for the data-conscious Indian market, which has a feature that allows sharing video across nearby devices without a data connection. In other cases, "Go" version is much more lightweight and slimmer than its original variants. There is also a different version of Play Store for Android Oreo (Go Edition) devices. This version of Google Play Store will highlight all the apps made by developers, specifically for Android Go and devices with not so powerful hardware.
According to Google, apps will open 15 per cent faster on the Android Oreo (Go Edition). Sameer Samat, VP of Android and Google Play tells us that users with smatphones that feature less than 1GB RAM are always unhappy with how slow apps open on their devices. He promises that the Oreo Go experience will be much smoother and faster with the optimisations Google has made to the OS.
Another important highlight of Android Oreo (Go Edition) is that Google's pre-loaded apps take up 50 per cent less space now as Android Oreo Go uses the Android Runtime (ART) compiler to make the apps lightweight. Samat tells us that on an average, Android Oreo (Go Edition) devices will be able to store 1000 additional photos on entry-level devices.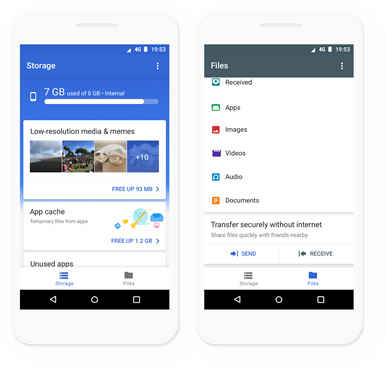 Moreover, Android Oreo (Go Edition) will incorporate data saving features much deeper. For instance, Chrome will route everything through a Google server that will reduce files sizes before it gets delivered to your phone. Google had also launched a data tracking app called Datally earlier this month.
A new app named Files Go has also been launched by Google. While the Files Go app already existed on the Play Store, it was in Beta and has now been made live for all Android users. The light-weight data sharing app will also be available on Android Go devices, which will help free up space in low-end devices, allow offline file sharing and make searching for files easier. Additionally, lightweight Maps Go and Gmail Go will also be there to complete the "Go" suite of Google apps.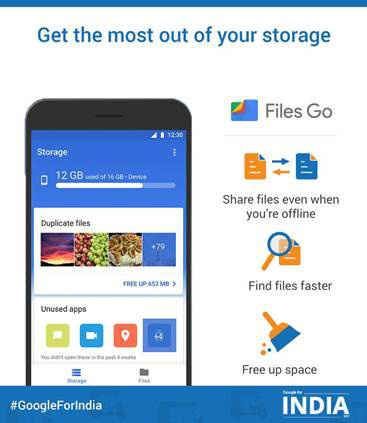 The Android Oreo (Go Edition) operating system will also have a lighter Google app. Named Google Go, the app is designed to occupy less than 5MB space, with a tap-first user interface, with 40 percent lighter search results. You can switch easily between languages while searching for information on the Google Go app.
What's more interesting is the lightweight Google Assistant Go app. Assistant Go will be available for all Android devices, but is targetted at low-end devices. The functionality of the Google Assistant will not vary in Assistant Go, which will support all of the AI helper's skills. During the event, Google announced a special partnership with Reliance Jio and a version of Assistant for the feature phone. The JioPhone will be the first feature phone to have Google's voice assistant on it. Assistant of the JioPhone will arrive as an update to the device and will replace the existing Jio Voice Assistant on the device. However, the functionality of Assistant on the JioPhone will be limited to calling, texting, opening apps, reading out messages, and of course searching the web.
This is the first we are hearing about Android Go after Google announced it in I/O in May. The operating system will be made available across the world. Devices shipping with Android 8.1 Oreo and less than 1GB RAM will automatically get Android Go. According to Google, we can expect to see devices sporting Android Oreo (Go Edition) early next year. As per what Samat tells us, Google also has some specific hardware parameters for smartphone makers who want to come aborad the Android Go initiative.For instance, a device with less that 1GB RAM should ideally not sport an OLED display. No further details about the various parameters were shared by Google. Developers building apps for Android Go have been asked to follow Google's building for billions guidelines.