Airtel recently partnered with Karbonn to launch a 4G smartphone at an effective price of Rs 1,399. The Karbonn A40 Indian from Bharti Airtel was the answer to the JioPhone, a 4G feature phone from Reliance Jio available at an effective price of zero. However, Airtel is not planning to stop at just one device.
The company is now planning to launch another affordable 4G smartphone at an effective price of Rs 1,699. According to 91mobiles, India's leading telecom service provider is planning to partner with home-grown smartphone maker Lava for this particular device. The handset will come bundled with data and voice benefits and will have a retail price of Rs 3,500. Like the Karbonn A40 Indian, Airtel plans to provide a cashback at fixed intervals and bring the effective price of the smartphone down to Rs 1,699. However, those buying the 4G enabled smartphone from Lava with Airtel connection, will have to buy mandatory recharges to get the cashback.
The report says that Airtel's affordable 4G smartphone with Lava will feature a 4.5-inch or 5-inch display. The Karbonn A40 Indian, on the other hand, features a smaller 4-inch display, a 1.3GHz quad-core processor, 1GB RAM, 8GB internal storage, 2MP rear camera, VGA front camera, Android 7.0 Nougat and a 1,400mAh battery. The new smartphone from Lava should have specifications similar to that of Karbonn A40 Indian.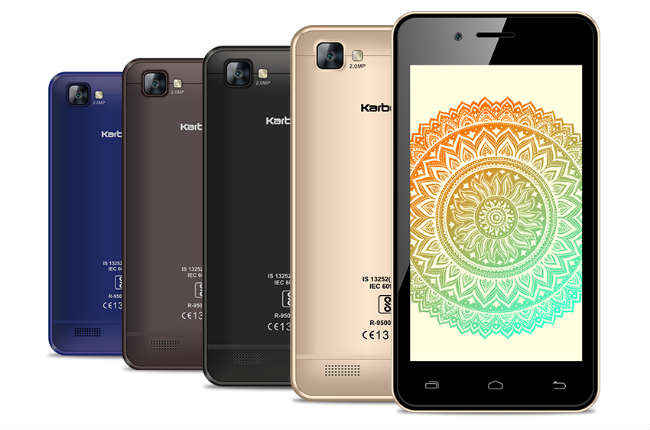 Karbonn A40 Indian
The Karbonn A40 Indian is priced at Rs 2,899 and buyers need to make continuous monthly recharges of Rs 169 for 36 months in order to get the cashback. Those buying A40 Indian will get a cash refund of Rs. 500 after 18 months while another Rs. 1,000 will be refunded after 36 months. With a total cash benefit of Rs 1,500, the effective price of the Karbonn A40 Indian comes down to Rs 1,399. The only major difference between the JioPhone and the Karbonn A40 Indian is that the ownership will remain with the users and they need not return the device to get the cash back.
With the launch of Jio's 4G services in September last year, the telecom service providers engaged themselves in a bitter tariff war. With the launch of the JioPhone, telecom companies are getting into a battle for offering the cheapest 4G smartphone. Vodafone also joined the fray yesterday with the launch of Micromax-made Bharat 2 Ultra at Rs 999. BSNL also partnered with Micromax to launch the Bharat 1 4G smartphone at Rs 2,220.
Economic Times reported back in August that Airtel is planning to launch 4G smartphones priced at around Rs 2,500 to take on the JioPhone in partnership with Karbonn and Lava. The new report states that Airtel is also planning to partner with a third Indian brand to launch a 4G smartphone priced between Rs 1,399 and Rs 1,699.