Adobe has released the a stable build of Flash Player 10.2 on the Android Market, meant for Android 2.2 Froyo, Android 2.3 Gingerbread and Android 3.0 Honeycomb devices.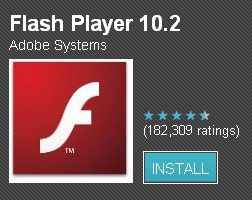 Bringing video performance and battery life gains, the improvement the GA release brings is admittedly best seen on dual-core Froyo and Gingerbread devices, though also noticeable on single-core devices.
[RELATED_ARTICLE]However, Adobe warns that with the Flash Player 10.2 beta for tablets, it has not enabled hardware acceleration for now, so expect the performance gains you experience with the new app to improve drastically once the full version comes out in a few weeks, when hardware rendering and compositing will be added.
Adobe promises that it will then be able to make "720p playback to a really smooth, enjoyable level" on tablets, where currently, the 10.2 beta for Honeycomb is
unable to
make 480p watchable.