According to research firm Gartner, the global PC shipments have declined by 4.9 percent in Q4 2012 as compared to the same quarter in 2011. The Q4 2012 saw shipments totalling 90.3 million units. The research firm also noted Microsoft's latest Windows 8 OS failed to kick-start the PC market.
Gartner further says growing popularity of the tablets have slowed down PC demand across the world. "Tablets have dramatically changed the device landscape for PCs, not so much by 'cannibalizing' PC sales, but by causing PC users to shift consumption to tablets rather than replacing older PCs," said Mikako Kitagawa, principal analyst at Gartner.
"Whereas as once we imagined a world in which individual users would have both a PC and a tablet as personal devices, we increasingly suspect that most individuals will shift consumption activity to a personal tablet, and perform creative and administrative tasks on a shared PC. There will be some individuals who retain both, but we believe they will be exception and not the norm. Therefore, we hypothesize that buyers will not replace secondary PCs in the household, instead allowing them to age out and shifting consumption to a tablet."
"This transformation was triggered by the availability of compelling low-cost tablets in 2012, and will continue until the installed base of PCs declines to accommodate tablets as the primary consumption device," Kitagawa added.
"On the positive side for vendors, the disenfranchised PCs are those with lighter configurations, which mean that we should see an increase in PC average selling prices (ASPs) as users replace machines used for richer applications, rather than for consumption."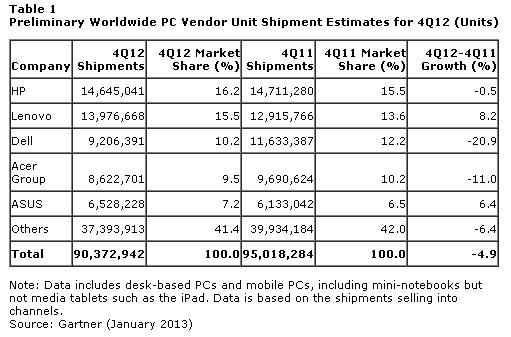 Gartner also noted that Microsoft's latest Windows 8 didn't have much impact on PC shipments in the fourth quarter. According to analysts, "some PC vendors offered somewhat lackluster form factors in their Windows 8 offerings and missed the excitement of touch. New products are coming to market, and this could drive churn within the installed base."
HP is rated as the top computer maker in the industry with 16.2 percent market share. Lenovo has the second spot with 15.5 percent of the market whereas Dell has at the third position with 10.2 percent. Rounding out the top five are Acer with 9.5 percent of the market and Asus with 7.2 percent.
Read the full Gartner report here.