Toshiba India has launched four new laptops in the country, apart from a new ultrabook, all part of the Satellite Series, and powered by 3rd Generation Intel Core processors (Ivy Bridge).
Toshiba India has launched four new laptops in the country, apart from a new ultrabook, all part of the Satellite Series, and powered by 3rd Generation Intel Core processors (Ivy Bridge).
These are namely C Series (C840 & C850) laptops, L Series (L850) laptop, M Series (M840) laptop, and the new Satellite U840 ultrabook. According to Toshiba, the new range of laptops offer outstanding performance, superior HD entertainment and contemporary styling. All five devices will be hit retail shelves in India by the 3rd week of June.
Commenting at the launch of the 2012 Satellite series range, Mr. Sivakumar N., Vice President – Strategic Marketing, Product Management and Services - DS Division, Toshiba India Pvt. Ltd. said:
"Speed, Style, Performance, Superior Sound and HD integration, are some of the features that are on top of the purchase consideration parameters for the young laptop consumer today. Our new range of laptops offers a perfect amalgamation of these cutting edge features with exquisite form factor. With thinner and lighter profile and high-quality durable design, the new Satellite series is a testimony to our strong heritage of leading innovation. The new range offers faster, more powerful and smarter laptops, powered by latest 3rd Generation Intel Core processors, and is perfect for youthful consumers looking for more of everything."
The new Satellite series range is equipped with Toshiba's special BIOS technology which helps the devices boot roughly 30% faster than normal. In addition, the entire range features the Intel 7 series chipsets and integrates USB 3.0 for 10X faster data transfers, along with Bluetooth 4.0 for longer distance connectivity up to 50 meters.
To enhance the digital entertainment user experience, the entire range boasts of 'Clear Super View' display technology which delivers an enhanced picture quality display, well complimented by Toshiba's Audio Enhancement option in the Satellite C series, SRS premium Sound HD™ in the Satellite L, M series and SRS Premium Sound 3D™ in Satellite U series. While the Toshiba Audio Enhancement option dynamically changes the sound equalizer to reduce distortion, the SRS premium Sound HD delivers immersive surround sound and a deep rich bass, ideal for listening to music, watching videos or playing games.
To up the users' digital entertainment experience, the entire range comes equipped with a standard HDMI port, to effortlessly connect to a larger HD Televisions or to other HD devices. The new range also features High Definition webcam for more immersive and clear video and image sharing experience, adding a whole new dimension to the video sharing experience.
The new Satellite L, M and U series laptops also feature a USB Sleep-and-Charge port, which can charge users' smart phone, MP3 player or other portable electronics integrating a USB port, even when the laptop is powered down.
Satellite U840: The Game Changer – Premium performance at Smart price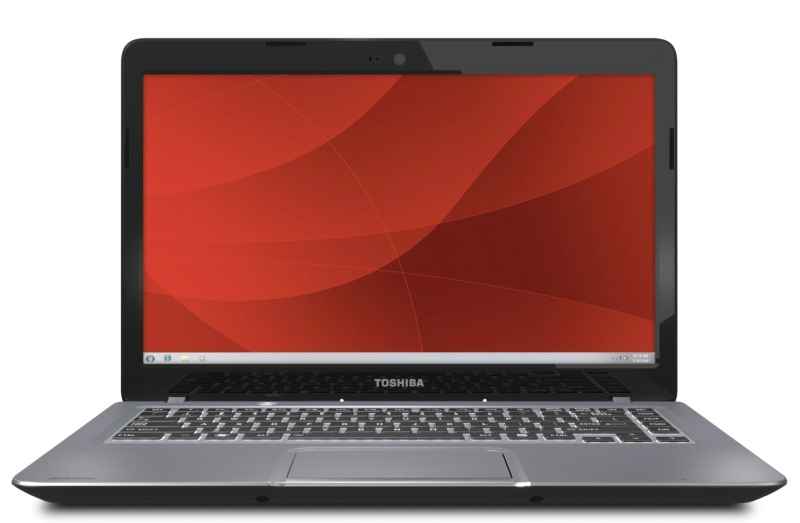 Designed in an aluminium and reinforced fibre glass chassis, the U840 consumer Ultrabook offers exquisite design and stylish exterior. The Toshiba U840 employs the hybrid drive technology with the integrated 32GB SSD coupled with a 500GB HDD. The hybrid technology dynamically improves the application response time and offers a powerful performance, along with faster system boot.
The U840, powered by latest 3rd Generation Intel core i5 processor, comes equipped with tile keyboards with LED backlighting, a large and easier-to-use ClickPad and USB 3.0 port for faster data transfers. Additional standard features include the SRS Premium Sound 3D sound enhancements, an HDMI port and a Lithium Polymer battery for a longer battery life. Dressed in an all-new, elegantly etched aluminium body in Ultra Silver color, this stylish and durable, Toshiba Satellite U840 is priced at Rs. 53,500.
Do also read our review of the Toshiba Portege Z830 ultrabook.
Visit page two for details about the newly launched Toshiba Satellite C, L, and M series of laptops...
Satellite C Series: Grand performance at a great value
Featuring superior functionality with stylish design, the C series is apt for use at home or at work. The Satellite C840 and C850 series come in configurations featuring the new Intel 7 series chipsets with a choice of integrated or dedicated graphics card. The Clear SuperView LED Display in the C840 - 35.6cm (14) series and C850 - 39.6cm (15.6) series are also perfectly suited to web browsing, viewing high definition video or office documents and applications.
The Toshiba Audio Enhancement option automatically improves the sound output by controlling the digital saturation and by dynamically changing the sound equalizer to reduce distortion. With options to choose between the tile keyboard and the flat keyboard, along with the VGA/HD webcam options, the entire Satellite C series offers laptop options catering to specific individual needs.
Available in textured black, glossy black and glossy silver color option, the entire C series range is priced between Rs. 23,000 and Rs. 44,000.
Satellite L Series: Power packed performance in a stylish design
Ideal for digital content creation, watching HD videos, extreme gaming and impeccable audio experience, the new Satellite L800 series, powered by latest 3rd Generation Intel Core processors, is the ultimate choice for high end mobile computing. The L series comes equipped with a host of premium high end features like - high definition webcam and HDMI connectivity ports, SRS premium sound HD and Toshiba Audio enhancement, dedicated 2 GB graphics for superior gaming and multimedia experience, and premium metallic ice silver colour with tile keyboard.
Featuring a 39.6cm (15.6) Clear SuperView LED display, the premium Satellite L850 series is priced between Rs. 51,500 – 56,000.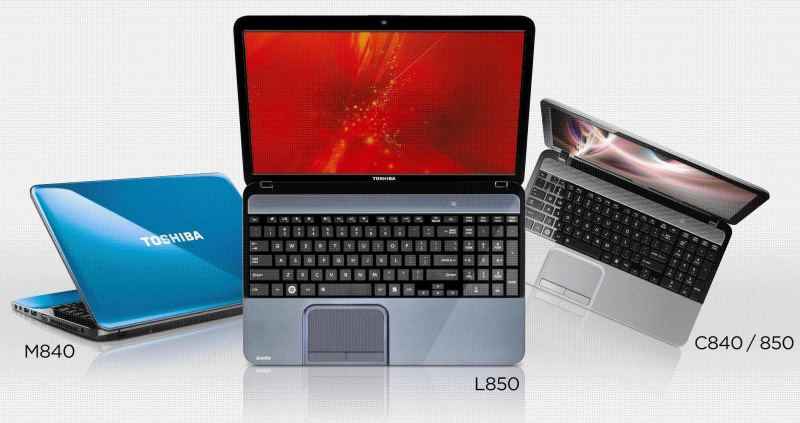 Satellite M840: uber speed for the uber youth
The Satellite M840 series weighs less than 2Kg and offers a thing and light body, making it a perfect companion for students and the uber youth who want a powerful performance on the go. The M840 supports all the essentials required for everyday computing tasks at an incredible speed. Available in chic colours, Champagne Gold or Dressy Turquoise with drape patterns, the 35.6cm (14) M840 series is available in the market for Rs. 32,500 - Rs. 41,000. The Satellite M840 features chic youthful colours - Champagne Gold or Dressy Turquoise with drape patterns.
All Satellite series Toshiba laptops come with one year onsite warranty.