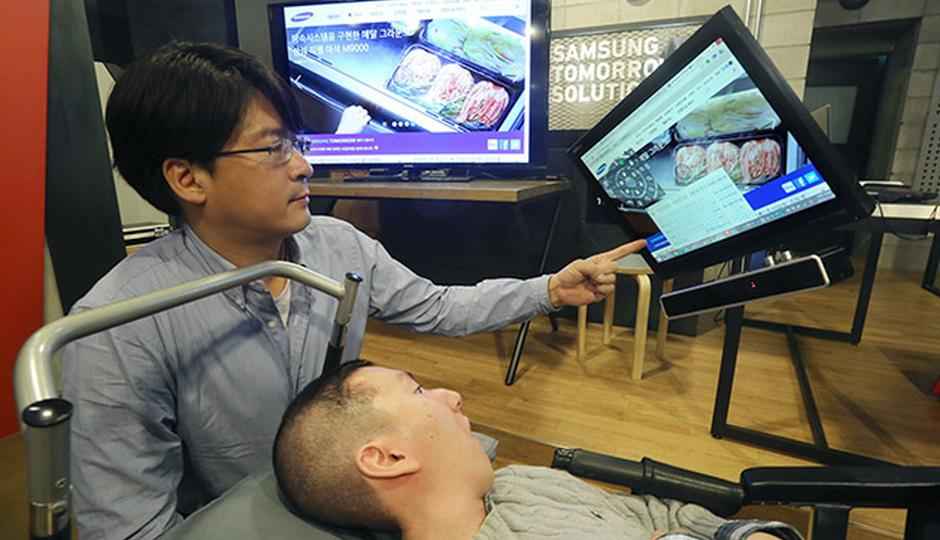 HIGHLIGHTS
Samsung's eye tracking technology EYECAN, lets the disabled use computers more easily.
A team of engineers at Samsung have developed a new eye care technology that allows the disabled to browse the web as well as a compose and edit documents through simple eye movement.
The technology builds on Samsung's previous technology called EYECAN which required the user to wear glasses in order to interact with a computer. Now the tech giant has rolled out a new update, called EYECAN+, which allows the user to simply point with a look and then click with a deliberate blink. Users were able to type as well as perform drag and drop commands.
EyeCan+ allows the user to be seated or lay down between 60 and 70 centimeters away from the monitor. The device has to be calibrated once according to the users eyes, after which the system remembers each user's eye characteristics and can be attuned for sensitivity.
Samsung has initially tested a Google Glass-like concept, which had a camera mounted on a pair of spectacles to track users' eye movements, however the company has now opted for something more like the Microsoft Kinect. Samsung has been testing the technology with the help of Seoul's Yonsei University graduate student, Hyung-Jin Shin, who was born quadriplegic and helped pilot the initial eye mouse concept.
According to reports Samsung is not planning to commercialize the technology, instead the electronics giant plans to make a small quantity to donate to charity organizations as well as make the tech freely available for other companies to use it in an open source agreement.
"EYECAN+ is the result of a voluntary project initiated by our engineers, and reflects their passion and commitment to engage more people in our community," said SiJeong Cho, Vice President of Community Relations at Samsung Electronics.
Source: Samsung