Samsung has announced the new generation of Series 9 laptops at CES 2012, super slim 15-inch and 13.3-inch models that fit in the Ultrabook category. The company is not calling them Ultrabooks however, instead, has released two other laptops – the 13-inch and 14-inch Samsung Series 5 Ultrabooks.
2nd Generation Series 9
The new Samsung Series 9 notebooks are a lot more compact than the first generation Series 9, with 13-inch model measuring in at 13mm thick, and weighing in at 1.1kg, while the 15-inch weighs 1.6 kgs, and measures 15mm in thickness. Samsung says over 33,000 hours of research have gone into designing the two models. The Series 9 is contained in what Samsung calls an ultraslim, aluminium single shell body. The shell has also been sand-blasted for fingerprint resistance.
Both the 13.3-inch and 15-inch displays of the Series 9 models have a matte finish, and feature a 1600x900 resolution, with Samsung's SuperBright Plus technology at 400 nits of brightness. Samsung, like other Ultrabook manufacturers, claims to have fit in a 15-inch display in a 14-inch chassis.
As for specs, the models offer up to Intel Core i5-2467M and 128GB SSD at launch, coupled with 4GB RAM, and USB 3.0 and a multi-card reader for connectivity. Using Samsung's Fast Solutions technology, the new Series 9 boots in as little as 9.8 seconds and wakes up in 1.4 seconds. As for battery life, the Series 9 boasts of up to 10 hours for the 15-inch and up to 7 hours on the 13.3-inch. With Samsung's Battery Life Plus technology, the batteries will apparently also retain 80 percent of their original capacities, for up to 1,500 charges.
The second generation Samsung Series 9 will be available starting February 27, 2012. It will retail for $1,399.99 for the 13.3-inch and $1,499.99 for the 15-inch.
Series 5 Ultra
They are officially called the Samsung Series 5 Ultra laptops, and will launch with two 13-inch models, and one 14-inch. All three models will sport an Intel Core i5 processor, 8 hour battery lives, 4GB of RAM, as well as matte displays with 300 nits of brightness and a 1,366x768 pixel resolution.
Both the 13-inch and 14-inch Series 5 model will come with both a 500GB hard drive and a 16GB of ExpressCache memory (flash), with an option for the 13-inch to sport a 128GB SSD. The ExpressCache memory will work to deliver enhanced overall performance, as well as faster boot times of up to 20 seconds and wake up times of around two seconds.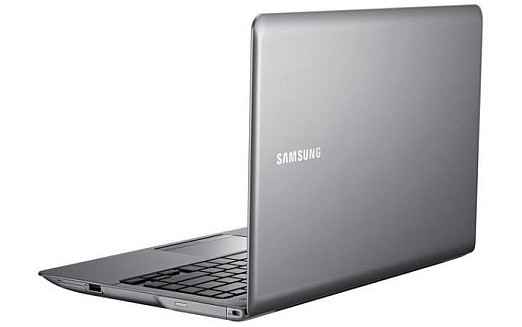 The 13-inch models will feature USB 3.0 and 2.0, multi card reader, HDMI port, Ethernet port, and a dual headphone/microphone jack. The 14-inch Series 5 model is much the same, featuring a VGA port in addition, as well as an optical drive, a first for an Ultrabook.
All three models will be released on January 30th, MSRPs of $899 and $949 for the 13-inch and 14-inch respectively, and $1,099 for the 13-inch 128GB SSD option.