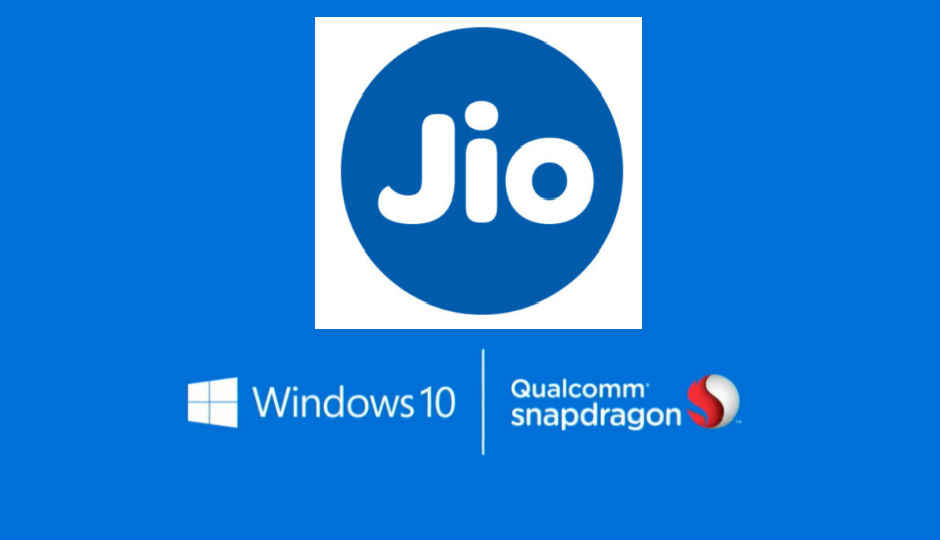 HIGHLIGHTS
Qualcomm has confirmed that it is in talks with Reliance Jio to bring an Always Connected laptop to India and that the telco could bundle it with data and content offers. Smartron has also confirmed that talks with Qualcomm to bring Snapdragon 835 powered laptops to the Indian market.
After taking the 4G and feature phone market by a storm in India, Reliance Jio's next big bet in connected devices seems to be an 'Always Connected' laptop running Windows 10, with a Qualcomm chipset inside. As per a new report, Reliance Jio is in talks with Qualcomm to launch a laptop with cellular connectivity and bundled data as well as content offerings.
Qualcomm has confirmed to the Economic Times that the chipset maker is indeed in talks with Reliance Jio to bring an Always Connected laptop to the Indian market. "…we have talked to Jio. They could take the device and bundle it with data and content," Miguel Nunes, Senior Director, Product Management, Qualcomm Technologies, told the publication.
Qualcomm introduced Always Connected PCs powered by its Snapdragon 835 chipset just last year in December at its annual Snapdragon Technology Summit. The cellular laptops have the Qualcomm X16 Gigabit modem for 5G connectivity and promise more than 20 hours of battery life. PC makers like Asus, HP, and Lenovo have already announced laptops powered by the Snapdragon 835 chipset and besides Jio, Indian OEM Smartron is also working with Qualcomm to launch an Always Connected laptop in the market.
Smartron Founder and CEO, Mahesh Lingareddy confirmed that talks were on with Qualcomm. "Since we already have tbook line of computing products, we are always exploring innovative form factors and devices where we can bring tronX experiences, services, solutions, and support to users," Lingareddy told ET.
Internationally, major telecom providers including the Verizon, AT&T, Sprint and more have already started supporting these cellular laptops. If the report is to be believed, Reliance Jio will be the first Indian telecom service provider to support these Qualcomm powered Windows 10 laptops. However, it is not clear who will manufacture the laptop for Reliance Jio. The company currently outsources manufacturing of its Lyf branded smartphones, MiFi dongles and other feature phones through Chinese ODMs.
Qualcomm's Nunes was quoted in the report saying, "We are trying to make sure that the operators understand the value. It's new for the OEMs, new for the operators, and new for the channel."