Nvidia's Ion 2 discrete graphics processor has been unveiled, and looks set to offer unprecedented graphics performance on netbooks. The next-gen GPU "vastly outperforms basic netbook graphics by delivering rich HD media in games, movies, and Internet-based video" according to Nvidia, and will give an almost 10x graphics boost while maintaining a low-energy profile (using Nvidia's Optimus technology) that can enable up to 10 hours of battery life.
Nvidia also said that the Ion 2 is a "discrete GPU with dedicated memory that attaches to an Intel Atom Pine Trail CPU via PCI Express. [But], unlike netbooks with [just] Intel integrated graphics, Ion netbooks have the power to play amazing HD video smoothly from sites like YouTube and support popular PC games like World of Warcraft." The Ion 2 will be offered in 512MB DDR2/3 variants, as well as 256MB DDR3. Certified for Windows 7, it will support DX 10.1 graphics, Hi-Definition Audio, HDMI, as well as DVI/DisplayPort/VGA (only for desktops).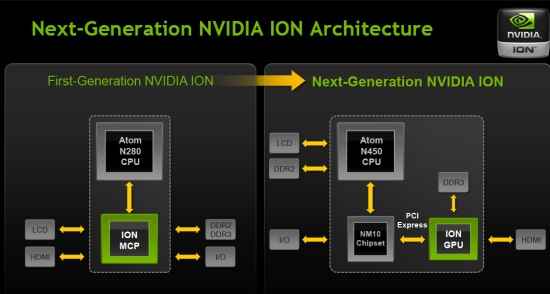 Nvidia expects its Ion 2 processor to be used in not just netbooks, but also a variety of small form factor or all-in-one desktops, motherboards, and as add-in cards. Expect the first products (over 30 of them) to launch by the American summer, including two next-gen notebooks: the Acer Aspire One 532G (10-inch) and ASUS 1201PN (12-inch); and the all-in-one PCs, the ASUS EeeTop 2010PNT and the Lenovo C200. 

 Click here for more information.