Microsoft Surface X is a new addition to the Surface Pro family. Microsoft Surface Pro 7 and Surface Laptop 3 are built on the design on their predecessors. Surface Laptop 3 now comes with AMD Ryzen 3 or Ryzen 7 processors as well.
Microsoft released a range of Surface devices at the October 2019 event. The company launched the Surface Laptop 3 and Surface Pro 7, powered by 10th Gen Intel Core processors. The Microsoft Surface Laptop 3 was also announced as a Ryzen Surface Edition variant that features AMD Ryzen CPUs. Alongside the two mainstream releases, the company also unveiled a new Surface device, the Surface Pro X, which is the first Windows machine to be powered by the Microsoft SQ1 chipset. Here is everything you need to know about the three products.
Microsoft Surface Laptop 3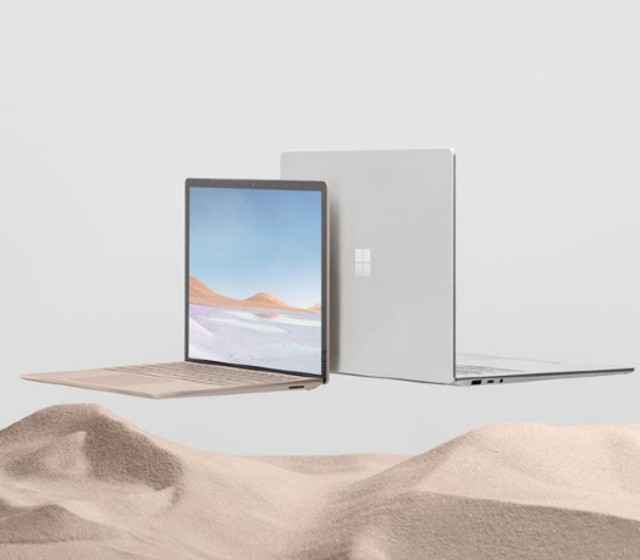 Starting with the Surface Laptop 3, it now comes in two display sizes, 13.5-inch and 15-inch. It has a 2256 x 1504 pixel resolution and a 3:2 aspect ratio. Both the models are powered by the 10th Gen Intel Core i5/i7 processors, whereas the 15-inch model also comes in AMD Ryzen variants. It sports AMD Ryzen 5/ Ryzen 7 chips with Vega 9/ Vega 11 Graphics Microsoft Surface Edition respectively.
Surface Laptop 3 has 8GB and 16GB LPDDR4X RAM. Further, the Ryzen model has an option for 32GB RAM as well. While the 13.5-inch model has 128GB, 256GB, 512GB, and 1TB M.2 NVME SSDs, the 15-inch variant comes with 128GB, 256GB or 512GB of M.2 NVME SSDs.
As for the ports, the Surface Laptop 3 includes a USB-C, USB-A, 3.5mm headphone jack and a Surface Connect port.
Microsoft claims the Surface Laptop 3 can function up to 11.5 hours on a single charge. The Surface Laptop 3 13.5-inch base variant is priced at $999, whereas the 15-inch model starts from $1,199. There is no word for price and availability in India yet.
Microsoft Surface Pro 7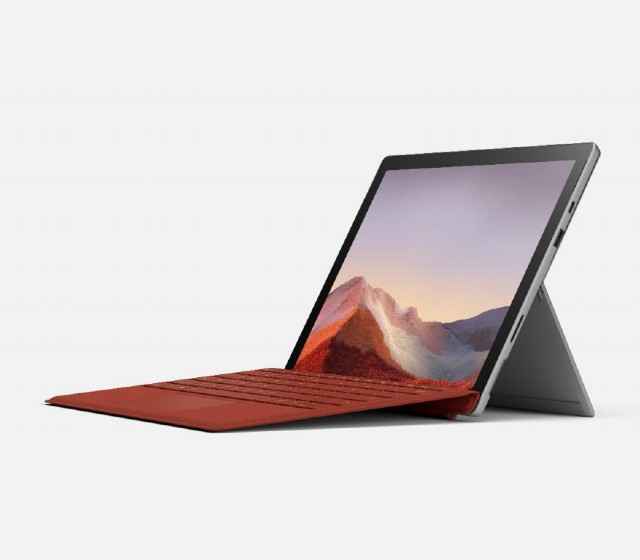 The Surface Pro 7 is built in the same chassis as the previous generation, and not much is changed in terms of exterior design. Microsoft's 2-in-1 Surface device features a 13.5-inch display, which has a resolution of 2736 x 1824 pixels and a 3:2 aspect ratio. The Surface Pro 6 successor is powered by 10th Gen Intel Core i3/i5/i7 processors with Intel UHD Graphics in the Core i3 model and Intel Iris Plus Graphics in the Core i5 and Core i7 variants.
On the storage front, the Surface Pro 7 comes in 4GB, 8GB and 16GB LPDDR4x RAM options. The device has 128GB of internal storage and goes up to 1TB. The company claims it can last up to 10.5 hours on a single charge. In terms of ports, the Surface Pro 7 has a USB-A, USB -C and 3.5mm headphone jack alongside the Surface Connect. Also, the 2-in-1 device weighs under 800 grams.
The Microsoft Surface Pro 7 sports a 5MP front-facing camera and a 10MP rear camera with autofocus
Both the Surface Laptop 3 and Surface Pro 7 have support for fast charging. Microsoft says the devices can be charged to 80 percent in just over an hour. Both the Surface devices feature Dual far-field Studio Mics that can help users pick calls directly from the screen while their phone rests in the pocket. Further, both the devices run Windows 10.
Microsoft Surface Pro 7 costs $799 for the base variant. Indian price and availability remains unknown.
Microsoft Surface Pro X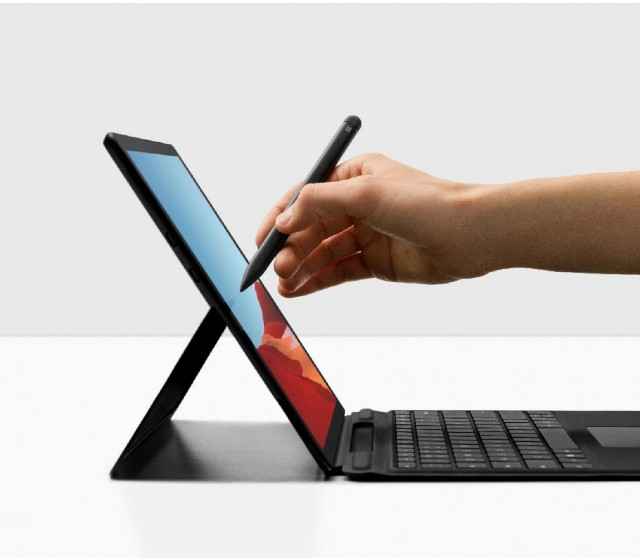 A new entry to the Surface Pro lineup, the Surface Pro X sports thinner design and slimmer bezels than the rest. It also comes with a custom processor, developed in partnership with Qualcomm. It runs a full-fledged version of Windows 10.
The Microsoft Surface Pro X features a 13-inch display in a 12-inch chassis. It has a 2880 x 1920 pixel resolution and 3:2 aspect ratio. The device is powered by the Microsoft SQ1 chip, paired with Adreno 685 iGPU. It comes in 8GB and 16GB RAM options. Further, it has 128GB, 256GB and 512GB storage options.
According to Microsoft, the Surface Pro X can run up to 13 hours on a single charge. It supports fast charging technology as well, which can charge the battery to 80 percent in under an hour, as claimed by Microsoft.
Microsoft Surface Pro X has a separate Surface keyboard, which has a slot for the Surface Slim Pen that wirelessly charges in its compartment in the keyboard. Unlike normal styluses, the Surface Slim Pen is flat on two sides.
The Surface Pro X sports 2 USB-C ports, a Surface Connect and a Surface Keyboard connector port. It has a slot for s nano-SIM as well. It weighs 762 grams. It sports a 5MP front camera and a 10MP rear camera with support for 4K video recording.
The Microsoft Surface Pro X is priced and $999. Again, no word on it Indian price and availability yet.
An improved Microsoft 365
Microsoft has always said that the Surface devices are focused towards busy professionals, students and teachers. Today, the company announced several new capabilities to Office apps.
Microsoft has introduced a solution to transcribe audio files to text in Word. It will help researchers, reporters, lawyers, and teachers who spend a lot of time recording audio interviews on their phone, and then spend even more time transcribing those conversations into Word. It will be available in early 2020 in Word for web. The company will announce exact plans and pricing closer to general availability.
Further, Surface Pen will soon be able to easily write, edit, or delete values in Excel. The feature will roll out to Excel for web and desktop in spring 2020 for Office 365 subscribers. Also, Microsoft has introduced Ink Editor, a feature that users can use to create and reply to comments from anywhere using voice or pen.
Microsoft also unveiled the Surface Duo, an Android dual-screen device and Surface New, a dual-screen tablet-laptop. Further, the company also introduced Surface Buds at the event.