Lenovo's refreshed IdeaPad S540 comes with an IR camera for face unlocking and eye-tracking,
Update: Lenovo has now launched the refreshed IdeaPad S540 on Amazon.in with a price tag of Rs 80,990. For that price, it features an Intel Core i5-10210U CPU with 8GB of RAM and 512GB of solid-state storage. The CPU is complemented by an Nvidia GeForce MX250 graphics card with 2GB of dedicated video RAM. The screen now measures 13.3 inches and has a resolution of 2560 x 1440 pixels. The battery on board is a 56Wh unit. The updated Lenovo IdeaPad S540 ships with Windows 10 and Microsoft Office Home & Student 2019 pre-installed. Find the product here.
Lenovo appears poised for the launch of a refreshed thin and light laptop as the teaser for a new IdeaPad S540 has popped up on Amazon.in. The one-page teaser reveals that Lenovo is about to drop on us a refreshed 15-inch model with Intel's latest 10th Gen Core i5 CPU and Nvidia's GeForce MX250 graphics card. The refreshed IdeaPad S540 comes with some new features, including an IR camera for face unlocking and eye-tracking. Lenovo has listed the new IdeaPad S540 on its official website with a price tag of Rs 69,990 but hasn't mentioned when it will be available for purchase on Amazon.in.
Going by Lenovo's teaser on Amazon.in, the new IdeaPad S540 measures 15.9mm in depth and weighs 1.3kg. It's expected to have narrow bezels on all four sides of the display, a glass touchpad, and a backlit keyboard with an integrated numpad. The 15.6-inch screen is an IPS LCD unit that delivers up to 300 nits of maximum brightness. According to Lenovo, the laptop's battery is good for up to 18.5 hours of continuous use and has support for rapid charge. The unit listed on Lenovo's website has 8GB of RAM and dual-drive storage (256GB solid-state drive + 1TB hard drive).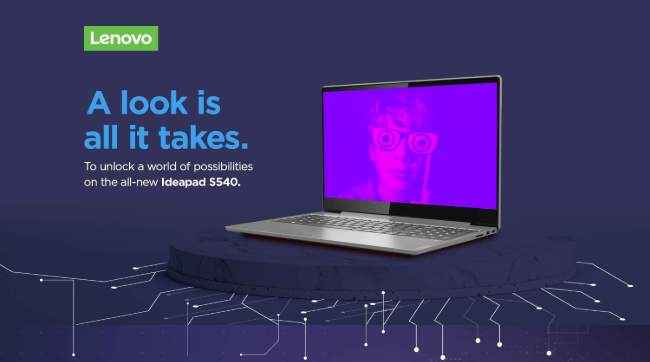 Because the new IdeaPad S540 is equipped with an IR camera above the display and Lenovo's proprietary software, the company is billing it as a laptop that is "powered by Lenovo AI". The IR camera on board is expected to help the user log in to Windows more seamlessly via Windows Hello. It's also expected to work with Windows 10's inbuilt 'eye control' feature, which is currently available for preview. At any rate, the IdeaPad S540 is one of the very few laptops to offer eye-tracking in its price range. Lenovo also says that the laptop has a dual-fan cooling system, which is expected to work 20 per cent better than before.
The IdeaPad S540 that we reviewed late last year was powered by an Intel 8th Gen Core i5 CPU in combination with an Nvidia GeForce MX250 graphics card. It had 8GB of RAM and storage was handled by a 128GB PCIe NVMe solid-state drive along with a 1TB hard drive. In our review, we noted that its performance was good but not great. We especially liked its bright, colourful display and its responsive precision touchpad. But we weren't a fan of its audio setup and its shallow keyboard setup. You can read our complete review of the Lenovo IdeaPad S540 here.