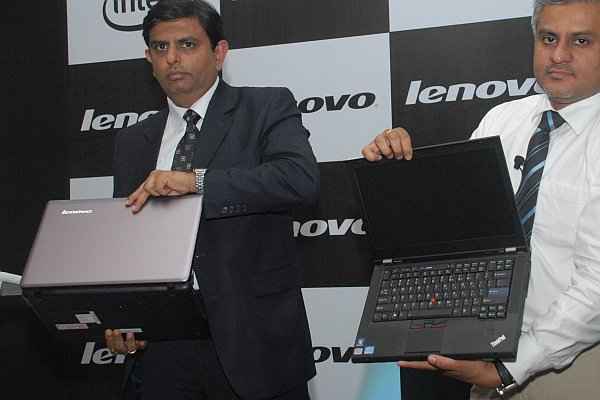 Lenovo has brought to India many of the new laptops it introduced has introduced since CES 2011 this year, including its range of all-in-one PCs and enterprise desktops, sporting the latest second-generation Intel Core Sandy Bridge processors or Fusion APUs. All the models are already available at various retail outlets across the country.
The laptops include two new models in the IdeaPad series, namely the entry-level 14-inch IdeaPad G570 (prices starting from Rs. 30,490), and the mid-range and stylish 15.6-inch IdeaPad Z570 (prices starting from Rs. 33,190). Both come with Sandy Bridge processor options up to Core i7 processors and 8GB of RAM, though the G570 also has the option of an AMD Brazos Fusion APU.
Lenovo also introduced two new 14-inch models in the ThinkPad series of enterprise laptops – the ThinkPad L420 (prices starting at Rs. 64,195) and ThinkPad T420 (prices starting at Rs. 83,322). Both are rugged, and adhere to military specifications. The laptops are also eco-friendly, fully recyclable and power-efficient. The ThinkPad T420 can sport up to a 2.7GHz Intel Core i7-2620M CPU, and features Nvidia Optimus graphics switching for better battery life. It also has improved audio sound, becoming the first business-class laptop to offer Dolby Home Theater v4, with virtualized surround sound and dialog enhancement technology. The ThinkPad L420 is an entry-level business laptop with Intel HD graphics that can be configured with up to a 2.7GHz Intel Core i7-2620M CPU and a maximum of 8GB of DDR3 memory.
[RELATED_ARTICLE]Lenovo has also unexpectedly released three models of A and B series All-in-One PCs in India, which were only expected to arrive in June. The new models include the A320, B320 and B520, all of which feature Intel Sandy Bridge processors. Both the A320 and B320 have 21.5-inch full HD widescreen displays and sport Core i5 processors and up to 8GB of RAM. The B520 however has a 23-inch full HD display and a Core i7 processor, and can sport up to 16GB of RAM. No official prices are available at the moment however.
The Lenovo M91 ThinkCentre business desktop range was also launched, with enterprise features like a Hardware Password Manager for additional security. No official prices are available for these either.