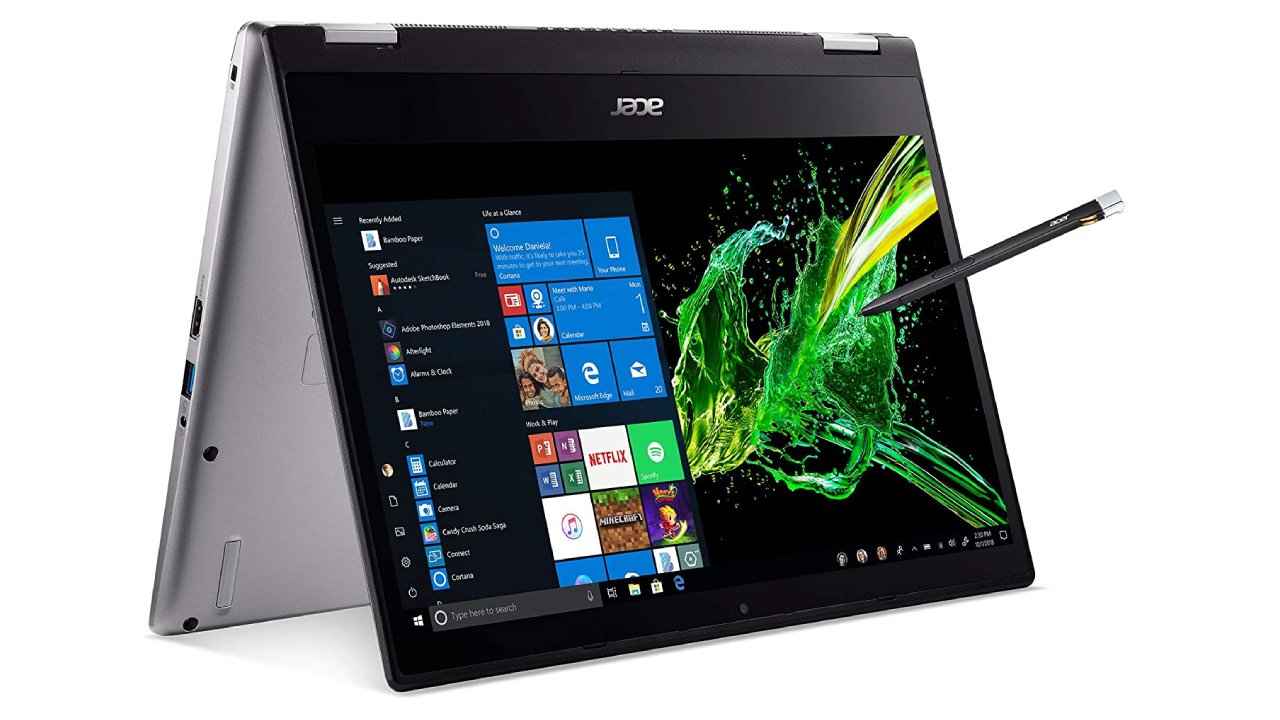 Laptops have not only made our life easier by increasing our productivity but are also great devices for all our entertainment needs. If you are looking for a laptop with great speakers so that you can watch movies and TV shows, then finding the ideal product in the market can be a tough task. To make things easier, we've put together a list of laptops available on Amazon that provide high-quality audio.
Acer Spin 3
Here is a convertible laptop from Acer that can double up as a tablet as well, thanks to its touch-screen display and the fully-rotating hinges. It comes with a rechargeable stylus, which you can use to perform various creative tasks. This 14-inch laptop has dual front-facing speakers to deliver a powerful and clean sound output. The device is powered by an 8th Gen i7 processor and is well-aided by a fast memory system of 16GB RAM and 512GB SSD. As a result, you should expect a seamless performance under most scenarios. Interestingly, this slim laptop is said to deliver a battery backup of 12 hours, allowing you to work wirelessly for long hours.
Dell Inspiron 13
This is a compact convertible laptop from Dell that has front-facing speakers to deliver an optimal sound output on its own. It sports a 13.3-inch UHD 4K touchscreen display that delivers a visual output with bright and vivid colours. This should make it a good potion for content/media creators. What makes this laptop different from others is its efficient and fast RAM. It uses a combination of 16GB DDR4 RAM and 32GB optane memory to deliver a smooth and lag-free user experience. Add to this the 512GB SSD memory, and you should be able to call upon even the heaviest of apps with ease.
ASUS ROG Zephyrus G14
Here is a gaming laptop from Asus that delivers good performance in both the video and audio department. To start with, it has front-firing speakers to deliver an immersive sound output, enabling you to enjoy the sounds of your games in the right manner. Then comes the 14-inch FHD display that supports a refresh rate up to 120Hz, which should deliver a stutter-free visual output even with high-octane games being played. Under the hood, the laptop boasts of having a 1TB SSD, 8GB RAM and an AMD Ryzen 5 4600HS processor, making it a robust combination. As a result, you should be able to play the most high-end games with ease on this laptop.
Lenovo Flex 14
If you want to keep the data in your laptop safe, then this laptop from Lenovo is a good option to consider as it has a fingerprint sensor. You can use this feature to keep everyone else from entering your personal space. In other features, this convertible laptop has a 14-inch touchscreen FHD display, a backlit keyboard and front-firing speakers for you to enjoy a good user-experience. It runs on an i5 processor and has 8GB RAM and 512GB SSD memory, all of which are good enough specs to support the basic software and applications that you use.
Apple MacBook Air
If you are looking for a lightweight laptop with front-facing speakers, then the Apple MacBook Air should not disappoint you. It sports stereo speakers that deliver clear wide stereo sound, enabling you to watch videos and listen to music without the need for your earphones. Also, it weighs just 1.29 kilograms, making it an easily portable device. The compact laptop has a 13.3-inch Retina display that uses the True Tone technology to deliver a visual output with bright and vivid colours. Under the hood, it has a 10th Gen i3 processor, 8GB RAM and a 256GB fast SSD, all of which combine to deliver a smooth user experience.
HP Omen
If you are looking for a good-quality gaming laptop that has front-facing speakers and an efficient cooling system, then the HP Omen should do you justice. It has front-facing grill speakers just above the keyboard to deliver optimum sound output. The laptop has been built to keep the heat at bay as much as possible. It has vents on three sides and a 5-way airflow system that should enable you to use even the heaviest of apps without worrying about burning out the laptop. The combination of 16GB RAM, 1TB SSD and AMD Ryzen 5-4600H 6-core processor should further aid in the smooth performance of the laptop.