Good news for people who are still confused whether to bet their money on an iPad or to look for a better alternative: Asus' latest addition to their Eee PC range - The Asus Eee PC T101MT - may just meet their requirements.
Featuring a 10.1-inch resistive multi-touch display (@1024x640), this is a product ready for the new era of touch-computing. It runs on an Intel Atom N450 CPU operating at 1.66GHz, which is efficient enough to handle the Windows 7 SKUs that are provided with the system. You can opt for 160/320GB hard disk and 1/2GB of RAM based on your needs, and if you require it, you can further expand the RAM by 2GB with the additional slot provided. Asus also offers 500GB Asus WebStorage complimentary with this Asus Eee PC T101MT. The netbook also features Bluetooth 2.1, Wireless N card, Ethernet LAN, sufficient for your network and connectivity requirements, and for your multimedia needs, it offers an external VGA port, card reader and webcam.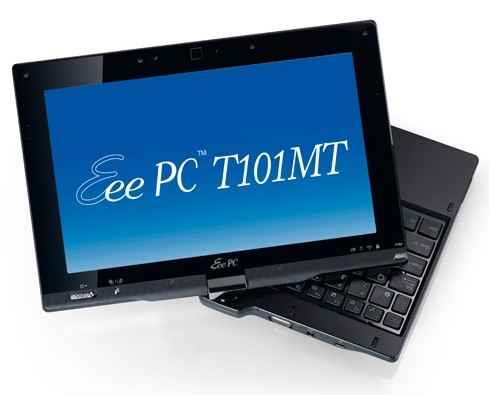 However, the actual beauty of the Asus T101MT lies in its swiveling screen, which gives the netbook a distinct advantage over other netbooks, and makes it comparable to tablet PCs. At 1.3kg, it is bulkier than most other tablets or netbooks, but considering the complete multi-touch support it offers and the fact that it can perform on par with a notebook computer and can give 6.5 hrs of battery backup, it's quite bearable. Being priced twice as much as an iPad, but not offering built-in 3G or GPS features may not appeal to those who are looking to have great voice/data connectivity or location-aware features in their device. But, one can always use VoIP (such as Skype or Google Voice) instead, and also have the added advantage of the built-in webcam to stay connected with friends and family from across the world. And for those who would like to have a general computing platform with multi-touch support, the Asus T101MT will be the ideal option.