Intel today launched their 10nm lineup of the Ice Lake platform which are now based on the Sunny Cove microarchitecture and feature Gen11 graphics, Thunderbolt 3 support, LPDDR4X memory support up to 3733, Wi-Fi 6 and a host of AVX-512 instruction extensions including VNNI which is aimed at improved AI-related workloads. Today's launch includes six U-series processors and five Y-series processors. The U-series have a configurable TDP of 25W with the top SKU i.e. the Core i7-1068G7 being the only outlier with a TDP of 28W. All Y-series processors have a maximum configurable TDP of 12 watts. These processors were first unveiled at COMPUTEX 2019.
Intel 10nm Ice Lake U and Y-series processors
These new processors from Intel will now have a slightly different naming structure which will now indicate the generation as well as the level i.e. performance of the integrated graphics. The entire SKU-stack is as follows: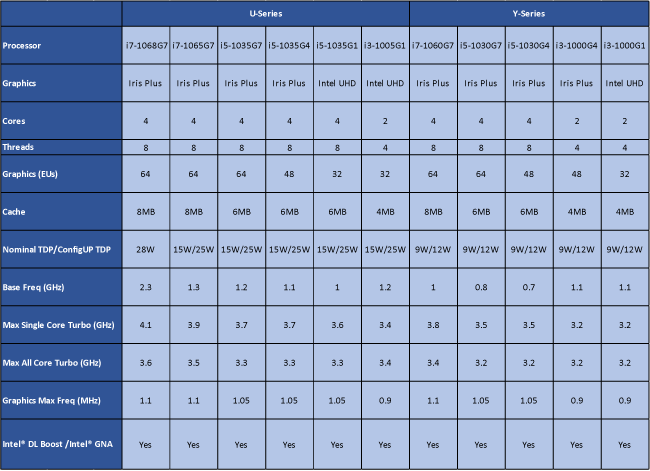 This is the second time that Intel has released a 10nm consumer processor family. Intel's first attempt at a consumer grade 10nm process was with Canon Lake which was first demonstrated at CES 2017 and released in 2018, roughly a year later. There was only one SKU in that family – Intel Core i3 8121U – and very few laptops and NUCs have been released with this processor.
The naming convention will make it very confusing for consumers to pick and choose between laptops with similarly named SKUs. For example, there are three Core i5-1035 processors with varying base frequencies as well as graphics performance. Retail outlets, both in India and overseas, tend to omit parts of the complete model number and therein lies the issue.
Improved graphics
Intel states that the integrated graphics in the 10th Gen Intel Core processors are the first GPUs from Intel to support adaptive sync which means you can now have less of frame-tearing in video games. We don't know how well these GPUs perform with current gen video games but it would be prudent to assume U and Y-series processors aren't as focused on video games and we shouldn't be expecting high FPS output. Nevertheless, adaptive sync is helpful with reducing screen tearing even if the FPS is low.
Availability
Laptops based on all the processors that were launched today should start appearing later this year.