Intel has finally pulled the curtains to reveal the 8 Core H45 Tiger Lake CPUs. These new Intel Tiger Lake processors have 8 Willow Cove cores, 16 threads, and 32EU Intel UHD graphics.
Intel's H35 series that was released earlier this year sort of bridged the gap between the U-series models that were sometimes pushed up to 28W, and the 45W mobile processors with more cores and higher clock speeds. And now, the company has finally pulled the curtains to reveal the 8 Core H45 Tiger Lake CPUs.
We now have Intel's complete lineup of Tiger Lake CPUs beyond the H35 quad-core parts, thereby allowing us to have Tiger Lake CPUs on mobile with an 8 core configuration instead of 4 cores.
These new Intel Tiger Lake processors have 8 Willow Cove cores, 16 threads, and 32EU Intel UHD graphics that is based on the new Iris Xe graphics architecture. The CPU is based on the 10nm SuperFin technology to deliver performance improvement that is comparable to a full-node transition.
Intel's new H45 series will include multiple variants including the Core i9-11980HK that's touted to be the world's best gaming laptop processor that's fully unlocked.
It's also the most premium model in the series which gets close to a desktop processor. This particular processor can be overclocked further than 65W in systems that will allow for it. It remains to be seen exactly how it fares since overclocking in laptops is usually a hit or miss, but we'll take Intel's word for it.
The Core i9-11980HK is the best one in the series with 4.5 GHz all-core turbo, 4.9 GHz traditional turbo, and 5.0 GHz with Turbo Boost Max 3.0 on up to two favored cores. However, there are a bunch of other variants - Core i9-11900H, i7-11800H, i5-11400H, and the i5-11260H.
So Intel has deployed five models in total for consumers and the other five vPro variants for commercial use. The Core i5 variants, as you can see, are hex-core offerings. All these processors have a 45W standard rating, while 35W is the power-down option.
As mentioned above, the new H-series processors will also have corresponding vPro versions for enterprise usage. According to Intel, out of the 80+ designs currently using the new 11th Gen Core Tiger Lake-H, about 15 of them will be vPro versions.
Intel is highlighting these key markets for its new CPUs -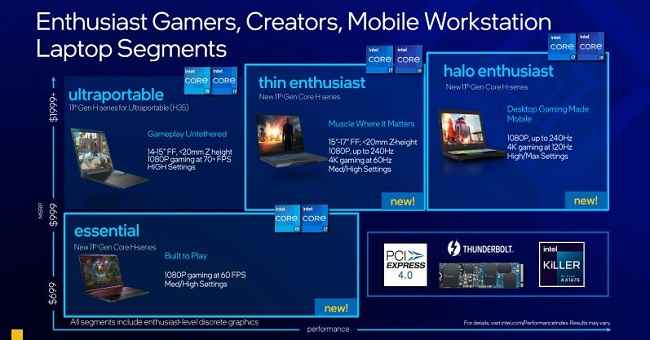 11th gen Intel Core H-series processors Features
Intel's new 11th gen Core H-series processors bring powerful performance with up to 8 cores and 16 threads. With Intel's Turbo Boost Max 3.0, these CPUs can deliver up to 5.0Ghz frequencies, which when combined with the new microarchitecture, delivers a solid performance boost over the previous generation.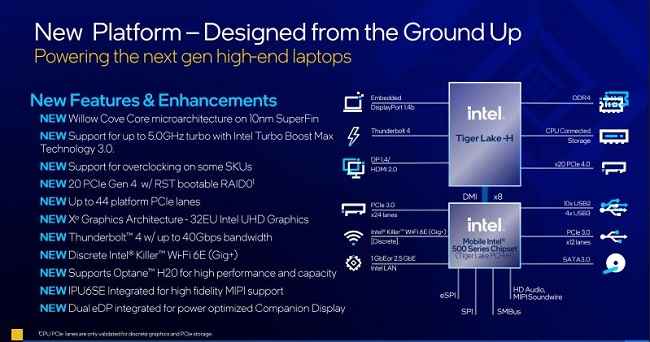 The new architecture features 20 PCIe 4.0 lanes direct to the CPU to enable ultra-fast discrete graphics and storage. In addition to that, the new Intel Optane memory H20 (Pyramid Glacier) allows for super-fast turnaround times for launching games, work files, etc.
Advanced Overclocking
The new CPUs also support Intel's Speed Optimizer that offers instant overclocking with one click and Intel Dynamic Tuning technology that taps into machine learning for adaptive performance. Intel's 11th Gen Intel Core H-series processors also enable per-core voltage control, the ability to modify AVX/512 voltages, XTU feature enhancements, and more.
Connectivity Solution
The new H-series processors take advantage of Killer Wi-Fi 6/6E (Gig+) with speeds up to 3x faster and up to 75% lower latency than legacy Wi-Fi. The processor's integrated Thunderbolt 4 at 40Gbps delivers the fastest, simplest, and most reliable cable solution for your accessories. Intel hasn't mentioned USB4, but there's USB 3 support, however, Intel again hasn't mentioned if this is USB 3.2 Gen 1 or Gen 2.
Availability
Laptops based on these new CPUs from Intel will show up on the market starting this month, however, you can expect them to come out over the rest of the year. Nvidia is also cooking products that are designed to fit with these CPUs. We'll have a lot more to talk about the performance of these CPUs once we get our hands on the systems for testing, so stay tuned.