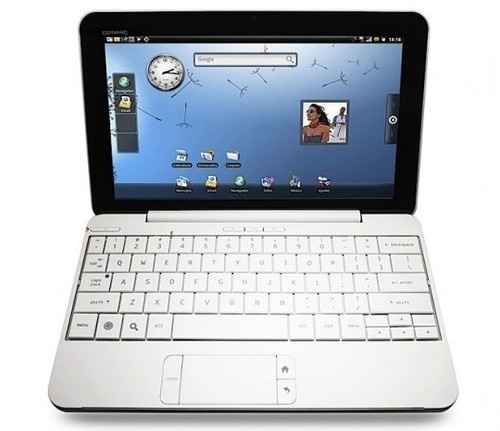 Since CES 2010, we've been puzzling over this and the Lenovo Skylight, wondering what these products will be used for, if they are used at all. They're plainly underpowered compared to netbooks (even HP's "Mini Netbooks") or laptops, and with keyboards, they do not fit the tablet category. It apparently falls between a smartphone and a netbook, but does it make voice calls that are not VoIP? Not really...Then what is it? Well, we could go with mobile internet device, as that is an inherently broad category.
Enough about what to call the device, let's talk about the Compaq AirLife 100. It sports an unlikely OS, Android, and you can find its rather weak specifications below, which if accompanied by price, might have given us an idea of why anybody would ever buy this product, apart from the touted 12-hour battery life. Is it really the combination of portability, a keyboard, and a battery life that will give this type devices a space in the market? Let us know what you think in the comments below...
Specifications
Chipset: Qualcomm Snapdragon QSD8250 chipset with integrated Scorpion central processing unit (offering WiFi / 3G connectivity)
Processor: Qualcomm Snapdragon QSD8250 1 GHz
Memory: 512MB RAM, 512MB Flash memory
Internal: Storage 16GB (15GB user available), 1GB may not be available due to application requirements.
Display: 10.1-inch diagonal backlit TFT resistive touch screen
Graphics: 16-bit color (65 K colors), 1024 x 600 pixels (WSVGA)
Input device: Keyboard, trackpad, touch screen display
Power Battery: Removable/rechargeable 28 Wh typical Li-Polymer battery, AC adapter included (compatible for international use)
Operating System: Compaq touch experience powered by Android

Software
Home screen with Widgets and Shortcut Strip
POP3 & IMAP Email
Calendar & Contacts
Alarm clock / World clock
Calculator & Self Portrait
Camcorder video recorder
Data transfer counter
Wireless printing (photos only)
Web browser with tabs and Adobe Flash Lite support
Music player
RoadSync Exchange (email, calendar, and contacts access and synchronization)
NDrive navigation with GPS - comes pre-installed with regional maps and points of interest included1
Weather application
Quickoffice document handler (works with Microsoft Word, Excel, PowerPoint and Adobe PDF files)
Check out features and specifications of Compaq AirLife 100 and other latest Compaq Laptops on Consumermate.com.