HP India has launched six new touch-enabled personal systems products in India, ranging from tablets to AIO PCs.
HP India has announced the launch of six new touch-enabled consumer personal systems products in India, in various form-factors, from notebooks to tablets, ranging from Windows 8 to Android 4.2.2 Jelly Bean. The company says the new devices have been designed to deliver extreme performance and maximum mobility, and transform the way people engage and consume content.
Specifically, HP India launched the [1] SlateBook x2 and the [2] Split x2 Windows 8/Android dual-booting hybrids, the [3] ENVY Rove20 Windows 8-based AIO-tablet PC-hybrid, the [4] Pavilion 11 TouchSmart Windows 8 laptop, the [5] ENVY TouchSmart 14 Windows 8 ultrabook, and the [6] Slate21 Android AIO. HP also added the Pavilion TouchSmart 20 and 23 to its Windows 8 AIO range.
Speaking at the launch, Ketan Patel, Director, Consumer Product Category, PPS, HP India, said: "People today demand extreme mobility and performance in their computing devices, to access and create content effortlessly anytime and anywhere. As India PC market leader, HP is happy to introduce the next-generation of PCs in a variety of form factors. These new products also bring novel touch experiences to help people connect, share and create in ways they never imagined."
HP SlateBook x2 (Rs. 39,990)
The 10.1-inch HP SlateBook x2 is a laptop-tablet hybrid which runs on Android 4.2.2 Jelly Bean. The 1920x1200 pixel LED-backlit display is detachable as a standalone tablet, joined by a magnetic hinge to the keyboard (which has its own battery pack). Powered by the Nvidia Tegra 4 mobile processor, the SlateBook x2 also has access to the TegraZone. The SlateBook x2 comes with up to 64 GB of storage and DTS Sound Solution for accessing and enjoying photos, music and videos. It weighs in at 1.27 kgs including the keyboard.

HP Split x2 (Rs. 64,990)
The HP Split x2 is another laptop-tablet hybrid, running Windows 8, and powered by a choice of 3rd Generation Intel Core i3 or i5 processors. The 13.3-inch device notebook has a 1366x768 pixel display, features dual-batteries like the SlateBook X2, and Beats Audio. It also features a 2MP HP TrueVision Full HD webcam and the HP ClickPad for precise multifinger and gesture navigation. The Split x2 weighs in at 2.27 kgs including the keyboard.
HP Pavilion 11 TouchSmart Notebook (Rs. 31,990)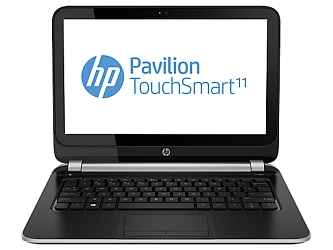 The 11.6-inch Pavilion 11 TouchSmart Notebook has a 1366x768 pixel capacitive touchscreen with 10 point-finger gesture support. Its two-tone look that features an Ano silver lid finish that opens to reveal a midnight black metal interior. The Pavilion 11 TouchSmart is powered by the dual-core AMD A4-1250 APU (featuring the HD 8210 GPU) clocked at 1GHz, and is paired with 4GB of RAM.
HP ENVY TouchSmart 14 Ultrabook (Rs. 64,990)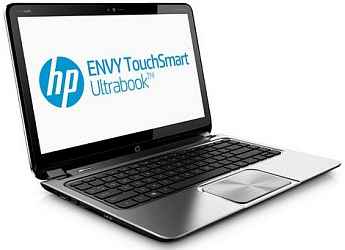 The ENVY TouchSmart 14 Ultrabook features a 14-inch 1366x768 display, that can be upgraded to a 1600x900, or 3200x1800 pixel one. The unit demo'd at the launch event ran on an Intel Core i7 processor, 8GB of RAM, and dedicated Nvidia graphics with 2GB of VRAM. Customers get the choice of 4th generation Core Duo processors, or 3rd generation Core i3 and i5 processors. HP promises up to nine hours of battery life. It features dual speakers and a subwoofer.
HP Slate21 All-in-One (Rs. 24,990)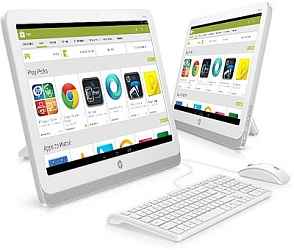 The HP Slate21 AIO PC features a 21.5-inch 1920x1080 reclining IPS display with an optical touchscreen, and runs on Android 4.2.2 Jelly Bean. It is powered by the Nvidia Tegra 4 processor, and features 1GB of RAM, and 8GB of built-in storage.
HP ENVY Rove20 (Rs. 69,990)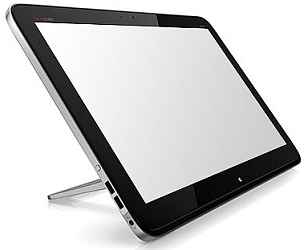 The HP ENVY Rove20 'mobile All-in-One PC' runs Windows 8 on a 4th generation Intel Core i3M processor, and features a 20-inch 1600x900 pixel IPS 10-point multi-touch display. It features Beats Audio with dual-speakers and subwoofer. HP's vision behind the design of the Rove20 was to allow for the AIO PC to be carried around when required, however, its extremely hefty 5.567kg weight may be a bit daunting for some, even across a short distance.