Dell has announced a number of new products a few days ahead of CES 2020, including a new XPS 13 with a four sided near bezeless display, amongst many others
With the Consumer Electronics Show just a few days away, Dell, isn't waiting around for the expo. The company has announced a number of products today across multiple portfolios including an updated version of the XPS 13, several new displays and even additions to the Latitude lineup of machines.
New Dell XPS-13
The Dell XPS 13 is the first of the many product announcements Dell is making today. The new XPS 13 fits a 13.4-inch display in a chassis of an 11-inch laptop. Additionally, Dell claims that the XPS 13 houses the world's first four-sided near-bezelless display. While narrow bezels are always nice, perhaps the most notable change to the long-standing thin-and-light is the 16:10 aspect ratio for the display. The additional horizontal resolution is always great to have and will be appreciated by those who tend to work a lot on spreadsheets. The new XPS 13 also features slightly broader keycaps, placed in the all too familiar carbon fiber keyboard island. The Dell XPS 13 will feature processors from Intel's 10th generation Ice Lake processors. In addition to the new XPS 13, Dell is also announcing a Developer Version of the XPS 13 which will come with Ubuntu 18.04LTS instead of Windows 10. The new XPS 13 is said to be available January 7 onwards in select countries for a starting retail price of $999. Globally availability to start in February.

Dell Latitude – Now 5G Ready
The Dell Latitude 9510 being announced today comes with a number of impressive features. First off, Dell claims the laptop is 5G-ready, meaning, consumers who live in countries where 5G is already available can pick up a version of the Dell Latitude 9510 that supports 5G as well. The 5G antennas are built into the speakers so as to retain the Infinity Edge display. Dell claims the Latitude 9510 to be the world's lightest and smallest commercial 15" laptop. Powering the Latitude 95100 will be Intel's 10th generation processors and will be vPro ready. The Dell Latitude 9510, starting at US $1,799.00, will be available globally starting March 26, 2020.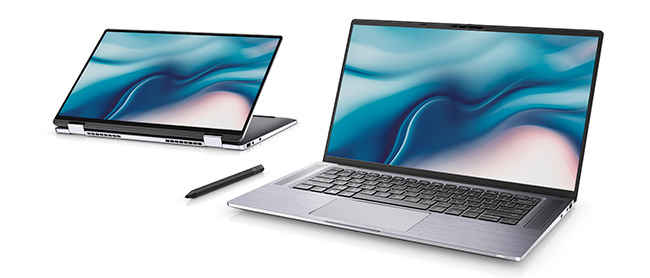 New displays for everybody
Dell is also taking the time to announce today four new premium monitors. The first is an 85.6-inch monitor interactive touch monitor with a 4K resolution. Designed primarily for commercial use, the Dell 86 4K allows content from up to four machines to be on display, for better collaboration and productivity. The second monitor that's part of today's lineup is the Dell Ultrasharp 43 4K USB-C monitor. As the name suggests, the panel has a diagonal length of 43-inches, accommodating a resolution of 4K. The monitor also supports DisplayPort over Type-C, along with power delivery of up to 90W. For those looking for an HDR enabled monitor, Dell is also announcing the Ultrasharp 27 4K USB-C monitor. The panel is VESA DisplayHDR 400 certified, meaning that it supposed a peak brightness of 400-nits, enough for most computer-based HDR content playback. Last, there's also the Alienware 25 Gaming Monitor featuring a fast IPS panel with 99 percent sRGB coverage. The panel boasts of a 240Hz refresh rate and 1ms response time (gray-to-gray). The monitor also supports AMD FreeSync and is Nvidia G-Sync compatible. The Dell 86 4K Interactive Touch Monitor will be available globally April 10, although the pricing has not yet been announced. Dell UltraSharp 43 4K USB-C monitor will be starting at US $1,049.99 and will be available globally January 30 onwards. The Dell UltraSharp 27 4K USB-C Monitor is priced starting at US $709.99 with a global availability set for January 30. Finally, the Alienware 25 Gaming Monitor is priced starting at US $499.99 and will hit shelves around the world on March 11.